Global mining major Rio Tinto on Wednesday said it will de-list Riversdale, in which Tata Steel holds more than 26 per cent stake, from Australian Stock Exchange (ASX), after the completion process of of its takeover offer on May 6, if it is not extended.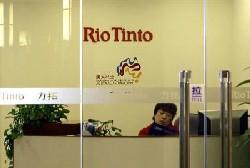 "Rio Tinto will seek to delist Riversdale after the close of the takeover offer which is open till May 6, unless extended further," mining major said in reply to a query on whether it will go ahead with delisting of Riversdale from ASX, even if Tata Steel opposed the move.

The diversified mining major headquartered at London and Melbourne had earlier also in a letter to Riversdale shareholders, sent to ASX, had said that it intended to de-list Riversdale after the close of the offer.

Rio Tinto, which holds about 73 per cent stake in the Australian mining firm, extended the takeover offer till May 6 from earlier April 29.

The free-float of Riversdale shares, not held either by Rio Tinto or Tata Steel, currently stands at 0.65 per cent.

Last month, Tata Steel in the wake of the developments had said that it would continue to hold its stake in the Australian entity in view of the soaring prices of coking coal, a vital steel making raw material.

"Our stand is same from the day one. We will continue to hold stake in Riversdale...In 1995, the price of coking coal was USD 50 a tonne and now it is over USD 300. In such a scenario, should I not stay invested," Tata Steel Vice Chairman B Muthuraman had said.

Tata Steel, which has over 28 million tonnes per annum steel-making capacity now, needs coking coal to feed its operations across geographies.

Tata Steel has been continuously opposing Rio's buying stake in Riversdale along with Brazilian steel maker CSN.

However, CSN backed out from its earlier stand last month and sold its entire 19.9 per cent stake to Rio which got about 73 per cent stake with this.

Riversdale has been a takeover target for Rio Tinto since December 2010, when it put in a bid of AUD 16 per share to acquire a majority stake in the Australian mining firm.

After getting the targeted 47 per cent stake, Rio Tinto had sweetened its offer to Riversdale shareholders to AUD 16.50 per share to get controlling stake in the company.

Riversdale has an estimated 13 billion tonnes reserves in its two projects in Mozambique - Benga and Zambeze. Tata Steel also holds 35 per cent stake in Benga Coal project.

Meanwhile, Rio has also assumed control of the Riversdale Mining Board with the appointment of two new directors. Rio now has five directors on the nine-member Board.