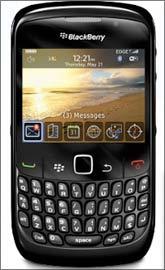 The Canada-based Research In Motion on Tuesday launched a BlackBerry mobile phone priced at Rs 15,990 in India targetting young professionals and students.
The handset, BlackBerry Curve 8520, would be available across India on Airtel service from August 7.
Research In Motion vice president (India) Frenny Bawa said, "The new BlackBerry Curve 8520 will help appeal to a much wider audience of customers in India."
Airtel chief marketing officer, mobile services, Raghunath Mandava, said, "We believe that the BlackBerry Curve 8520 will appeal to young professionals, students and a broad spectrum of customers who want the mobile for messaging, social networking, email, music and entertainment."