Nine of the 10 most valued companies in the country together added Rs 59,720 crore (Rs 597.2 billion) in market capitalisation over the past week, with Reliance Industries, ITC and Bharti Airtel emerging as the biggest gainers.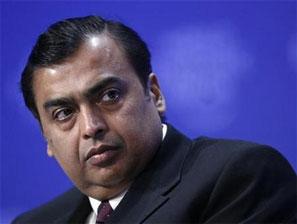 TCS, the sole loser, still led the top-10 rankings, followed by Reliance, ITC, ONGC, Infosys, Coal India, HDFC Bank, Bharti Airtel, Hindustan Unilever and Sun Pharma.

Energy major Reliance's m-cap surged Rs 13,702 crore (Rs 137.02 billion) to Rs 2,92,506 crore (Rs 2,925 bilion), becoming the top gainer.

ITC's value climbed Rs 9,563 crore (Rs 95.63 billion) to Rs 2,80,426 crore (Rs 2,804 billion), while Bharti added Rs 9,434 crore (Rs 94.34 billion) to Rs 1,42,547 crore (Rs 1,425.47 billion).

The m-cap of ONGC advanced by Rs 6,503 crore (Rs 65.03 billion) to Rs 2,42,377 crore (Rs 2,423.77 billion), while HDFC Bank's value jumped Rs 4,402 crore (Rs 44.02 billion) to Rs 1,61,811 crore (Rs 1,618.11 billion).

Infosys' market value shot up by Rs 2,426 crore (Rs 24.26 billion) to Rs 1,90,425 crore (Rs 1,904.25 billion), while Sun Pharma added Rs 1,181 crore (Rs 1307.59 billion) to Rs 1,30,759 crore (Rs 1,307.59 billion) and Hindustan Unilever rose Rs 584 crore (Rs 5.84 billion) to Rs 1,31,138 crore (Rs 1,311.38 billion) .

IT major TCS lost Rs 395 crore (Rs 3.95 billion) to Rs 4,15,328 crore (Rs 4,153.28 billion)
in value.
The benchmark S&P BSE Sensex gained 1.73 per cent to 20,882.89 over the past week.