Reliance Industries, controlled by Mukesh Ambani, India''s richest person, has said in a statement that the allegations made by anti-graft crusader Arvind Kejriwal are "devoid of any truth or substance whatsoever".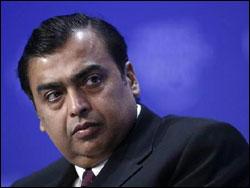 "Irresponsible allegations made by IAC at the behest of vested interests without basic understanding of the complexities of a (Krishna-Godavari Basin) project of this nature do not merit a response," Reliance said in a statement late on Wednesday.
The allegations made front page news in all the leading English and vernacular national dailies of the country.
Kejriwal''s allegations were unlikely to have a long-term impact on Reliance shares, analysts said, but the this latest expose did impact the groups shares, as it was evident when the market opened in Mumbai on Thursday.
"From yesterday''s closing price, Reliance industries have come down by, as I am talking to you, 10 rupees ($0.18), which is 1.25 percent down from yesterday''s closing. Obviously theirs slight cautiousness in the market, investors are cautious and after the media briefing of Arvind Kejriwal, where he alleged a nexus between the group and the politicians. So maybe at this point of time the reason is that the investors may feel some nervousness and that''s the reason it is down by 1.25 percent," said Sunil Shah, a market expert.
Reliance, controlled by billionaire Mukesh Ambani, Asia''s second-richest man, had clashed with the former oil minister Jaipal Reddy over gas output at the conglomerate''s KG-D6 block on Andhra coast.
While Reliance has long been perceived by many Indians as politically influential, investors say the firm''s relationship with New Delhi has recently been fractious as a result of the performance of its flagship gas project on the east coast.
Reliance and its partner BP Plc have blamed technical problems for falling gas production, and have sought permission to charge higher prices to cover spending, but the government has so far refused to approve higher gas fees.