Exit from Delhi Metro's airport express line

Delhi Metro Rail Corporation (DMRC) has assured that services on the airport express line will remain unaffected for passengers after Reliance Infra's pull-out. However, the dispute over costs and compensation that R-Infra has claimed could lead to a legal battle to be settled through arbitration.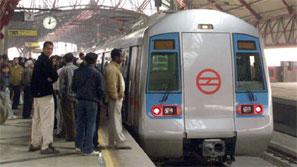 The Reliance Group company had sent a letter to DMRC earlier this week, saying it would not run the Metro line after June 30.

Under arbitration, R-Infra has claimed costs of Rs 670 crore - Rs 350 crore (Rs 6.7 - 3.5 billion) for project-related issues, Rs 250 crore (Rs 2.5 billion) for loss of reputation and Rs 70 crore (Rs 700 million) for loss of operations between July and December 2012. Additionally, if DMRC is found liable under the contract, it will have to pay 100 per cent of the company's debt and 130 per cent of its equity.

Since January 2012, Delhi Airport Metro Express, a special purpose vehicle of R-Infra, had been running the service on the line as an 'agent'. For this, it has sought Rs 25 crore (Rs 250 million) per month from DMRC. This adds another Rs 125 crore (Rs 1.25 billion) to the cost taking the total claims and bills to Rs 795 crore (Rs 7.95 billion), excluding the costs of termination and breach of contract.

DAME had in October 2012 legally notified to DMRC that it wished to pull out of the project, as its legal status was that of an 'agent'.

According to R-Infra officials, the main cause of dispute between DMRC and DAME is the breach of material clause in the concession agreement. In July, 2012, when the airport express line was closed due to cracks in the civil structure, DMRC was supposed to correct the problem within 90 days, according to the contract. However, DMRC took six months to complete the repair work. The delay is alleged to have led to reputational and business loss to R-Infra.

According to sources, the other major reason is 'suspension for safety'.

"There was no joint inspection carried out before the handover, as the Commonwealth Games were about start. The bearings in the line, which are supposed to have a life of at least fifteen years, started breaking," said a senior official.

DMRC officials remained unavailable for response.

DMRC might have assured the passengers of unfettered services, the urban development ministry has yet to come up with a plan to meet the cost. A senior ministry official said: "Our response to their exit is clear, the services would continue but we will come up with a plan to meet costs and other details in eight-10 days."

The challenge before DMRC at present is not only meeting the legal cost but also coming up with a sustainable plan to cover its costs and continue to provide services to more than nine thousand passengers that use the services on a daily basis.