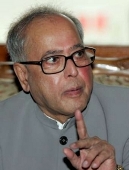 Finance Minister Pranab Mukherjee said the statutory joint committee, proposed to be set up to resolve disputes between financial regulators, would come into play only when there was a conflict between two regulators in an area of hybrid products.
"The government's position is quite clear. All the regulators will enjoy their autonomy, which has been given to them by the Act passed by Parliament," he said after a meeting with the chief ministers of southern states in Hyderabad on Tuesday.
Mukherjee, however, emphasised: "If there is a conflict between two regulators in an area of a hybrid products, the joint mechanism, which has been established by issuing an ordinance, will come into play to determine in which regulator's jurisdiction that product comes.
Except in this limited area, there is no other intention of the government and no other action is being taken by it to interfere with the autonomy of the regulators."
On June 18, an ordinance was issued that proposed to constitute a joint committee headed by the finance minister to resolve inter-regulatory disputes.
The ordinance was promulgated in the wake of a dispute between the Securities and Exchange Board of India and the Insurance Regulatory and Development Authority over whose jurisdiction unit-linked insurance policies fell in.
Both the regulators and the Reserve Bank of India expressed reservations over such a joint mechanism.
Inflation
Addressing a press conference, Mukherjee said the annual inflation would be moderate and the moderating impact would be felt after the monsoon season was over.
"Higher inflation is always a matter of concern. It is no longer confined merely to food items, which contributed substantially till April-May.
Recently, fuel and other ingredients of the inflationary basket have started picking it up and, as a result, the inflationary pressure is being felt," he said.
He said the annualised rate of inflation would be 5-7 per cent if the index figure for the whole year was taken into consideration.
However, when a comparison was made on a month-to-month or a year-to-year basis, the base effect would come into play. If the base of last year was high, there would be lower rate of inflation and vice versa, he said.
High sugar production
There were indications that sugar production this year was going to be high and already the effect was being felt on its prices, the finance minister said.
So far as edible oil and pulses are concerned, these two were in perpetual deficit. The shortfall of pulses was about five million tonne and edible oil about three million tonnes. There was a need for a green revolution for increasing the cereals production.
The government was promoting 60,000 villages for cultivation of pulses and oil seed to make up for the shortfall, he added.
He said the foodgrain production in the country was 225-230 million tonnes and there was a need to increase it.
The minister also said the Micro Finance Regulation Bill was under examination and the government would arrive at a decision shortly.
"I don't think the interest rates are exorbitant. The refinancing arrangement, which we have made with the banks would ensure there would not be any problem of availability of money," he said.
Image: Pranab Mukherjee