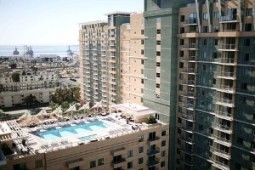 Many feel the fluctuating market prices in real estate does not ensure stability required in banking space.
The year is 2007.
The Indian stock market is in the midst of a great bull run. Indiabulls, a prominent name in the financial services arena, applies for a licence for mutual fund operations.
Cut to 2008.
HDIL Constructions and Kumar Housing Corporation apply to the Securities and Exchange Board of India for launching real estate mutual funds.
There are two common threads joining the above-mentioned applicants. First, all three entities have a significant exposure to real estate.
Second, all three applications are still 'under process' with the market regulator.
While much time has passed since the applications were made, it seems that regulatory concerns related to two words -- real estate -- continue to get stronger.
More importantly, Sebi is not alone in having such apprehensions.
Only early this month, when the Reserve Bank of India released a discussion paper on allowing private players in the banking space, the central bank's reluctance to permit real estate players in the space was most conspicuous.
"Industrial and business houses engaged in real estate activities either directly or indirectly, should not be allowed to promote banks," said the discussion paper.
"Given the sensitivity of the real estate sector, any subversion of the Chinese walls between the bank and the rest of the Group could have extremely negative consequences for financial stability," it added.
In another instance, the central bank says that even those non-banking financial companies looking to get converted into a bank should have no exposure to the real estate sector.
In October last year, RBI increased the bank's provisioning requirement for commercial real estate, leading to increase in developers' cost of funds.
RBI took this step as it felt that there was a sharp increase in bank credit to real estate and restructuring of loans by property firms to the extent of Rs 10,000 crore (Rs 100 billion).
This was followed by increased provisioning for commercial real estate, making bank loans expensive for property developers.
HDFC chairman Deepak Parekh is of the view that the regulators are cautious about real estate because of 'continuous price escalation and bubble in real estate prices'.
"RBI is particular that developers get money for construction and not for buying land. They think that developers cannot get into money-lending and banking as their primary business is development," says Parekh.
Meanwhile, the market regulator is also going slow in announcing the guidelines for real estate investment trusts.
Recent reports suggest that after more than two years since issuing the draft norms, Sebi is toying with the idea of canning REITs in India.
REITs, as the name suggests, are investment pools formed to invest in real estate assets. Investors also have the option of receiving regular dividend based on the investment made, mostly in commercial properties, including malls, multiplexes and office buildings.
Real estate players are not amused.
"Sebi's concerns could be different but where REIT is concerned, it should be introduced as quickly  as possible as it allows retail participation in various property projects," says R Nagaraju, head of planning and strategy, Unitech.
"If you look at the international markets, especially Singapore, US or Australia, REITs have become efficient vehicle of investment. I do not think there are any fundamental problems in launching REITs here. But probably, the indiscriminate lending to housing in US must have made regulators a little cautious," he explains.
The reluctance towards real estate entities is not limited to regulators alone. Even the investor community appears to be looking at the sector with certain amount of scepticism.
If one looks at the last one year's performance of the BSE Realty index, it is actually trading in the red.
This, at a time, when the benchmark 30-share Sensex of the Bombay Stock Exchange has gained more than 23 per cent in the same period.
The BSE Realty index comprises some of the largest listed real estate majors, including DLF, Unitech, Indiabulls Real Estate, Sobha Developers, Parsvnath and Akruti.
The post-listing performance of most of the real estate majors has not been impressive either.
D B Realty, which listed on the bourses in February this year, is trading below its issue price.
Similarly, Nitesh Estates is trading nearly 17 per cent below its issue price of Rs 54. The company made its debut on the stock exchanges in May.
Further, there are already reports that Emaar MGF has cut down its IPO size.
"The real estate industry in India is still at a nascent stage," says Amit Mookami, director (transaction services), KPMG.
"A lot of reforms are needed with respect to knowledge transfer, foreign participation and land records.
"There is no benchmark valuation and land aggregation is still a problem. Big land reforms are necessary, including automation of land records," says Mookami.
Mookami is not alone in airing concerns related to the real estate sector.
An analyst with a domestic broking firm, on conditions of anonymity, says that real estate has become the favourite punching bag of many.
"The sector is plagued with lack of transparency. There is an in-built component of black money.
"The balance sheet of many players still lacks depth and there is no stability in valuation. But we cannot forget that the system is such that introducing transparency is a Herculean task. There is just too much of vested interest involved," he says.
"I think the problems real estate faced is legacies of the past and hence regulators are rightfully concerned about property prices," says Ravi Ramu, director, Puravankara Projects.
"With the regulators' close watch, good developers will benefit and projects will get funds at a right price, and it will lead to better real estate scenario. It will certainly curb speculative activity in real estate," he adds.
There has been much talk about having a regulator, too, for the sector, but nothing concrete has happened as yet.
While one may think that a regulator specially for realtors might go a long way in bringing the much-needed discipline and transparency, there are many who disagree.
Unless all the interested parties -- developers, financiers, government authorities and end consumers -- are involved in the exercise, real results would be hard to come by, argue many.