The Reserve Bank had rejected the advice by majority of external experts to lower the interest rate by up to 0.5 per cent in its second quarter review of the monetary policy announced last month.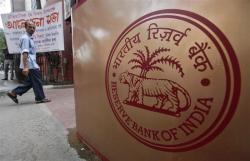 Ignoring the advice of five out of six external members of the Technical Advisory Committee (TAC), the RBI had decided to keep the interest rates unchanged in the view of high inflation.

RBI in its second quarter monetary policy review on October 30, however, did reduce the cash reserve ratio (CRR), the portion of deposit which banks are required to keep with the central bank, by 0.25 per cent  releasing Rs 17,500 crore (Rs 175 billion) of primary liquidity into the system.

"On monetary policy and liquidity measures, five of the six external members suggested that the Reserve Bank should reduce the policy rate...Of these five members, three recommended a reduction in repo rate by 25 basis points, while the other two suggested a sharper reduction of 50 basis points", RBI said while releasing the minutes of the October 23
meeting of the TAC on Monetary Policy on Wednesday.
The external members of the TAC who attended the meeting were Y H Malegam, Indira Rajaman, Sudipto Mandle, Errol D'Souza and Ashima Goyal. Rakesh Mohan had submitted written views.
One of the six external members, RBI said, was of the view that "since inflation expectations are elevated, no change in the monetary policy stance is necessary."
RBI's decision to retain interest rate at the existing level even irked Finance Minister P Chidambaram who had said, "Growth is as much a concern as inflation. The government has to walk alone to face the challenge of growth... Sometimes it is best to speak and sometimes it is best to be silent. I think this is a time for silence."