The Reserve Bank of India Governor Duvvuri Subbarao said on Monday he expects liquidity conditions to be less uncomfortable over the next few months due to the winding down of the government's cash balances as well as the narrowing gap between deposit and credit rates.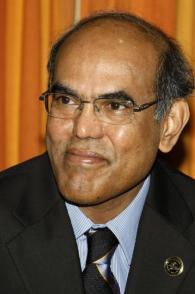 However, Subbarao said liquidity is expected to be in deficit mode over the next few months, and that the central bank would
prefer it to be in deficit as there are upside risks to inflation.
In a teleconference with analysts, the central bank chief also said the RBI does not intervene in forex markets to manage liquidity.
On Friday, the RBI cut the repo rate by a quarter point for the third time since January but said there is little room for further policy easing, and left the cash reserve ratio, or the proportion of cash banks need to park with the RBI, unchanged.