The Reserve Bank of India has allowed seven more banks, including four associate banks of State Bank of India, to import precious metals gold and silver.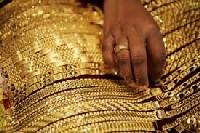 With the addition of the seven banks - South Indian Bank, Karur Vysya, State Bank of Hyderabad, State Bank of Bikaner, State Bank of Travancore, State Bank of Mysore, and Punjab and Sind Bank - the number of banks allowed to import the precious metals now stands at 30.

According to a data of the RBI, banks like Allahabad Bank, Axis Bank Ltd, Bank of Nova Scotia, Canara Bank, Federal Bank Ltd, HDFC Bank Ltd, ICICI Bank Ltd, Kotak Mahindra Bank Ltd, Standard Chartered Bank, Syndicate Bank and Union Bank of India, are some institutions that are already allowed to import gold and silver.

"This will increase competition and consumers will have choice among banks to take the benefit. Also, the banks can use the gold to lease out to manufacturers," commodity brokerage firm Religare Commodities President Jayant Manglik said.

India, the world's largest gold consumer, imported a record 624 tonnes of the yellow metal in 2010, against 559 tonnes in the previous year, according to the World Gold Council.

Similarly, silver imports are also estimated to have increased by 25 per cent to 1,200 tonnes from 1,000 tonnes in the same period, the Bombay Bullion Association said.

Banks contribute more than 80 per cent of the annual imported bullion traded at the wholesale and retail markets.