Ratan Tata was on Tuesday ranked the most trusted name among businessmen in India in a list compiled by popular magazine Reader's Digest that placed the warring Ambani brothers much below.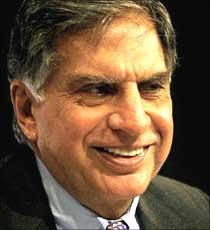 Tata was ranked second only to former president APJ Abdul Kalam in the list of 100 most trusted individuals in India and was far ahead of Prime Minister Manmohan Singh, ranked seventh, and young Congress leader Rahul Gandhi at 29.
Business leaders who ranked higher than the Ambanis, as per an online poll conducted by Reader's Digest, include Infosys' Narayan Murthy (fourth), Kumar Mangalam Birla (20th), IT major Wipro's Azim Premji (10th) and many other captains of the industry.
Mukesh Ambani of Reliance Industries was placed 74th, three rungs ahead of his younger brother Anil who heads Reliance ADA group.
The overall list of most trusted public figures in the country names various politicians, journalists, film actors, sportspersons and businessmen among others.
Other business leaders who find place in the list include -- ArcelorMittal chairman and CEO Lakshmi Mittal, Bharti Airtel group chairman and MD Sunil Mittal, Biocon chairperson and MD Kiran Mazumdar-Shaw, HDFC's Deepak Parekh and ICICI Bank's CEO and MD Chanda Kochhar.
Cricket champion Sachin Tendulkar has been ranked at the 8th place in terms of votes received and is followed by cartoonist R K Laxman (9th) and G Madhavan Nair (chairman of Indian Space Research Organisation) at the 10th place.
Others named among the top 30 trusted people in India includes -- film actor Amitabh Bachhan, Amartya Sen, steel baron Lakshmi Mittal, Delhi Metro chief E Sreedharan, RBI Governor D Subbarao and actor Aamir Khan.
The Reader's Digest list also ranks various noted journalists, including -- broadcasting major NDTV's promoter Prannoy Roy, The Times of India columnist Swaminathan S Anklesaria Aiyar, The Hindu Editor N Ram, P Sainath, Rajdeep Sardesia, Barkha Dutt, Tarun Tejpal and India Today editor Prabhu Chawla.
The Trust Survey carries findings from the Readers' Digest independent poll, which reveals the people and professions most trusted in the country.
Some of the top businessmen named in the list include Ratan Tata, Mukesh Ambani, Anil Ambani, Kumar Mangalam Birla, Sunil Mittal and Rahul Bajaj.
A cross section of 750 Indians were surveyed online and asked to rank the shortlisted individuals and professions they have the most faith in.