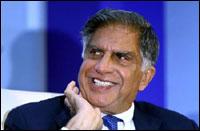 A handsome retirement package would be a welcome gift to most, but Tata group chairman Ratan Tata turned down such a suggestion from a Tata Steel shareholder saying the company has "taken good care" of him.
"I am comfortable, company has taken good care of me," he said at the annual general meeting (AGM) of Tata Steel in Mumbai on Tuesday.
He was responding to a shareholder's request to the management to give Tata a "handsome retirement package".
This was Tata's last AGM as Chairman of Tata Steel -- a company where he had started his career half a century ago in 1962.
After steering the company for 21 years, Tata will pass on the leadership baton to his successor designate and present
deputy chairman of Tata Sons, Cyrus Mistry in December, when Tata turns 75.
Seeking support for Mistry, Tata said, "He has the ethics and values to steer the Group. I hope he will receive the same support from shareholders as I have received all these years."