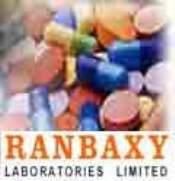 India's largest drugmaker, Ranbaxy, will have an exclusive six-month marketing opportunity to sell a generic version of Japanese drugmaker Eisai's drug for Alzheimer's in the US.
The exclusivity status was confirmed by the US regulator, the Food and Drug Administration (FDA), after it dismissed Israeli drug major Teva's claim for a shared marketing exclusivity for the drug, company officials said.
Ranbaxy may get the final FDA approval to market the drug known under the brand name, Aricept, as soon as patent protection over the drug expires on November 25.
Industry analysts estimate the drug will fetch Ranbaxy about $300 million (Rs 1,370 crore) during the exclusivity period.
The company has not disclosed from which production facility it will supply the medicine, as two of its Indian manufacturing plants are yet to be cleared by the FDA for supply to that country.
Ranbaxy shares on the Bombay Stock Exchange rose 5.6 per cent to close at Rs 561.95 on Tuesday, its highest price during the year.
Now a subsidiary of Japanese drug major Daiichi Sankyo, it pins much hope on the one-time revenue from such limited period exclusive marketing opportunities.
During the quarter ended June, the company saw its revenues from North America double on account of a similar exclusive marketing opportunity for Valacyclovir, a herpes drug. It achieved a market share of 74 per cent before the end of exclusivity during the quarter.