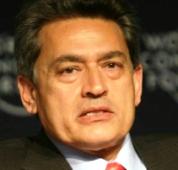 The sentencing of former Indian-American Goldman Sachs director Rajat Gupta, convicted of passing confidential market information to Galleon hedge fund founder Raj Rajaratnam in one of America's biggest insider trading cases, has been preponed by a day to October 17.

US District Judge Jed Rakoff had set as October 18 the date for sentencing Gupta after the ex-McKinsey head was found guilty by a jury here of passing confidential company information to Rajaratnam.

Gupta, 63, was found guilty on three counts of securities fraud and one count of conspiracy in June.

He faces up to 20 years in prison for his conviction on securities fraud while the conspiracy fraud carries a maximum term of five years.

"With the consent of the parties, the sentencing of defendant Rajat Gupta is hereby rescheduled from October 18 to October 17," Rakoff, who presided over Gupta's three-week trial, said in an order filed yesterday with the US District court, Southern District of New York.

Gupta's sentencing comes nearly a year after he was charged with securities fraud on October 26, becoming one of the most high-profile Wall Street executives and highly regarded Indian Americans to be named in the US government's crackdown on insider trading.

The government crackdown, led by Manhattan's Indian-American Attorney Preet Bharara, has convicted 67 people on insider trading charges in the last five years.

The US has filed charges against 71 traders across the country and while six cases are pending, no one has yet won an acquittal.

Rajaratnam is currently serving an 11-year prison term after being convicted last year of his role in a massive insider trading conspiracy, through which he made millions of dollars of profits and avoided huge losses.

Prosecutors said Gupta, a Harvard Business School graduate who sat on the board of Procter & Gamble, passed insider tips about a five billion dollar investment by Warren Buffett's Berkshire Hathaway in Goldman Sachs during the height of the financial crisis in 2008, and on Goldman Sachs losses in the fourth quarter of 2008.
Image: Rajat Gupta