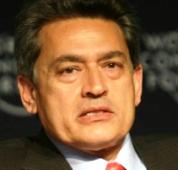 Lawyers for Indian-origin former Goldman Sachs director Rajat Gupta presented phone records before the jury at his trial in New York to show that convicted hedge fund founder Raj Rajaratnaman had links with another executive in the banking firm who leaked inside information to him.

Attorney David Frankel questioned Joseph Yanagisawa, an employee in Goldman Sachs's technology unit, about phone calls between the global banking giant's head of Asia Equity Sales David Loeb and Rajaratnam.

Some of these phone calls were made on the same day in September and October 2008 when prosecutors allege Gupta called the Galleon co-founder to pass confidential information about market-moving events at Goldman.

Gupta, 63, a onetime global head of McKinsey & Co management consultancy, is charged with securities fraud and conspiracy in US District Court in New York over allegations he leaked boardroom secrets to Rajaratnam and his Galleon Group between March 2007 and January 2009.

Yanagisawa took the witness stand on Wednesday testifying for the government about numerous call records between Gupta's phone and Rajaratnam's phone in 2007 and 2008.

On cross-examination, Frankel presented records of Loeb making repeated calls in 2007 and 2008 to Rajaratnam's business and cellphone lines and to numbers associated with Adam Smith, a former Galleon trader who has pleaded guilty to insider trading and is cooperating with prosecutors.

"That was Loeb calling?" Frankel asked of a record of one call to Rajaratnam's direct line.

"Yes," Yanagisawa replied.

Loeb made two calls to Smith's number on the afternoon of September 23, 2008, including one at 3:07 pm.

Prosecutors say Gupta tipped Rajaratnam at around 3:55 pm that day about news that Warren Buffet's Berkshire Hathaway was investing $5 billion in Goldman.

Other records showed that Loeb made four calls to numbers tied to Smith and Rajaratnam on October 23, 2008, the same day that prosecutors say Gupta informed Rajaratnam that Goldman Sachs would lose almost two dollars a share, worse than Wall Street expectations.

Gupta's defence team has argued throughout the trial that Rajaratnam had sources other than Gupta to provide him confidential company information.

The government had also revealed in court on May 23 that Loeb passed tips to Rajaratnam about Apple, Intel andHewlett-Packard.

Galleon was a client of Goldman Sachs and Loeb was one of the sales executives who dealt regularly with the hedge fund, according to evidence presented at the trial.

On their part, prosecutors provided jurors with charts showing calls between Rajaratnam and Gupta in September and October 2008.

The charts have been created by an agent with the Federal Bureau of Investigation James Barnacle.

Barnacle told jurors he found at least six calls between Rajaratnam and Gupta on September 23, 2008, starting with one at 8:46 am made from a Galleon phone to Gupta's telephone at McKinsey for 41 seconds.

Goldman CEO Lloyd Blankfein has testified that he briefed Gupta and other board members about the Berkshire Hathaway investment at a meeting that began at 3:15 pm.

According to Barnacle's charts, a phone at a McKinsey conference room in Manhattan called Goldman Sachs for a conference call that lasted 41 minutes and 12 seconds.

As soon as that call ended at 3:54:12, Gupta's assistant telephoned Rajaratnam's direct line at Galleon for a call that lasted 56 seconds.

Three more calls were made between Gupta and Rajaratnam on the afternoon of September 23 after Goldman issued an announcement about the Buffett investment at 6:09 pm, Barnacle said.

Starting at 6:15 pm, a call was placed from Gupta's cellphone to Rajaratnam's direct line for one minute; a second call was placed from Gupta's cellphone to Rajaratnam's mobile phone a minute later and then a call was made from Gupta's cellphone to Rajaratnam's assistant.

Blankfein, who had began his testimony on June 4, will likely return to the witness stand today after which prosecutors would most likely rest their case.

The Goldman CEO was excused from appearing in court on Wednesday to attend his daughter's high school graduation, US District Judge Jed S Rakoff told jurors.
Image: Rajat Gupta | Photograph: Rediff Archives