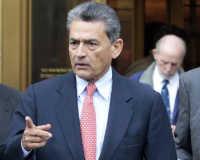 A Goldman Sachs employee is under investigation for insider trading in the United States, according to media reports.
The executive is facing probe for allegedly leaking confidential information about two publicly traded companies to former Galleon Group co-founder Raj Rajaratnam, who was convicted in 2011 in one of the largest insider trading cases.
The investigation of the unnamed executive in California was revealed at the pre-trial hearing in the case of Rajat K Gupta, the former Goldman director.
Gupta is accused of telling Rajaratnam about secret boardroom discussions at Goldman and Procter & Gamble, where he also served on the board.
If the executive is found guilty of insider trading then that could help Gupta, as the defence team could claim that Rajaratnam had other channels inside Goldman Sachs to get secret information.
Two other Goldman executives,
David Loeb and Henry King, are already under investigation as part of the government's insider trading inquiry.
Both Loeb, a salesman, and King, a technology stock analyst, had close relations with Rajaratnam and his colleagues at the hedge fund, Galleon Group, according to
The New York Times
.
Rajaratnam and Galleon had deep ties to Goldman. Galleon, which at its peak managed about $7 billion, was one of Goldman's most important hedge fund clients.
The government brought criminal charges against Gupta in October. A former head of the consulting firm McKinsey and Company, Gupta, 63, is the most prominent corporate executive ensnared by the US government's sweeping investigation, according to
The New York Times
.
Federal prosecutors in Manhattan have brought insider-trading charges against more than 60 people. Rajaratnam, who was convicted by a jury last May, is serving an 11-year sentence at a prison in Massachusetts, it said.