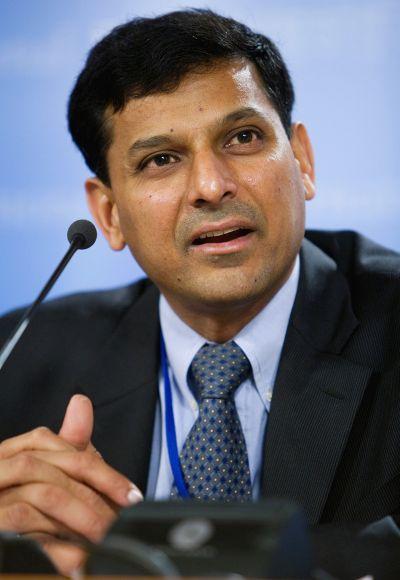 Days before his first monetary policy review, Reserve Bank of India (RBI) Governor Raghuram Rajan met Prime Minister Manmohan Singh and Finance Minister P Chidambaram on Tuesday.
The meeting also comes at a time when the US Federal Reserve is expected to take a call on tapering of the bond-buying programme known as quantitative easing.
"RBI has constant consultations with the finance ministry. This meeting was part of that. We discussed a whole gamut of issues," Rajan told reporters on Tuesday after meeting Chidambaram.
Later, during the day, the government hiked import duty on gold jewellery to 15 per cent from the existing 10 per cent in an effort to curb the spiralling current account deficit (CAD) that touched an all-time high of 4.8 per cent of the GDP in FY13.
A six-month high inflation in August has already made things tough for Rajan at a time when industry is demanding cut in the policy rate to boost growth.
Inflation rose 6.1 per cent in August from 5.8 per cent in July, driven by expensive food items, particularly onions, which saw the rate of price rise skyrocketing to 244.6 per cent from an already high 119.4 per cent.
According to a report by Dun and Bradstreet, RBI is expected to maintain a status quo on the policy rate. Ironically, onion prices can't be brought down by interest rate policy.
However, that may desist Rajan from easing the central bank's monetary stance in the mid-quarter review on the 20th of this month, economists said.
India's economic growth crashed to a four-year low of 4.4 per cent in the first quarter of 2013-14.
On the other hand, inflation in manufactured products further fell to 1.9 per cent from 2.81 per cent, despite depreciation of the rupee, increasing imported inflation. This showed that demand in the Indian and global economy remained subdued.
Usually, it is manufactured product inflation on which RBI focuses its attention; it is core inflation within manufactured item inflation that RBI is usually concerned.
The core inflation relates to manufactured items sans food articles. It fell further to 1.9 per cent in August from 2.3 per cent.
The low rate of price rise in manufactured items and core inflation should have been ideal conditions for RBI to cut rates, but the party is being spoilt by food articles.