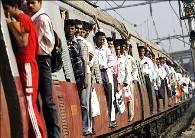 The Railway Board has decided to create over 5,000 posts and impart advanced training to Railway Protection Force (RPF) personnel to ensure security of passengers besides tackling terror threats.
"A total of 5,134 posts at the level of constable to sub-inspectors have been created. After their inductions, these men will be trained and put on duty to protect passengers and railway properties," RPF Director General Ranjit Sinha told PTI.
The proposal is, however, awaiting the Finance Ministry's approval.  "Passengers' safety is our first priority. RPF personnel have been directed to take all measures to ensure their safety," Sinha said. Senior officers in-charge of supervising and ensuring security of passengers have been asked to step up patrolling and number of RPF men present inside trains, he added.
The official said RPF personnel will also be undergoing special training to check crime inside trains. According to another senior Railway Ministry official, authorities are considering to review security measures in trains running through the Naxal-affected areas.
"We continue to assess security arrangements as Railways are prone to terror attacks. Hence, to better deal with such possibilities we have decided to equip our men with advanced weapons and training," the official said.
Railways have decided to install hi-tech closed circuit television cameras and X-ray machines to screen passengers at important stations. Besides procuring modern gadgets and weapons like AK 47 rifles, INSAS assault rifles (5.56mm), Light Machine Guns (5.56mm), bomb disposal squads, special utility vehicles are also being purchased by the Railways for the purpose.
The Board is also working on the ways to enhance coordination between the RPF and State police forces to ensure fool-proof security for passengers and their belongings.
The government Railway Police (GRP) is responsible for maintaining law and order at Railway Stations, while the Railway Protection Force (RPF) is entrusted with the duty to provide safety to Railway passengers and escort passenger trains in vulnerable areas.
Railways have also joined hands with the Army to impart specialised training to nearly 6,000 personnel of the Railway Territorial Army (RTA) and develop a state-of-the-art institute in Jhansi (Uttar Pradesh) at the cost of Rs 5 crore (Rs 50 million) for the purpose.
Indian Railways run about 9,000 passenger trains in its 16 zones spread across the country.