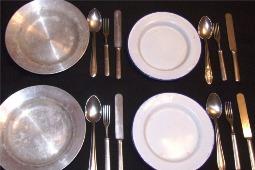 To provide food to passengers at reasonable rates, Indian Railways is launching special outlets in stations across the country.
To begin with, four Jan Ahar outlets are going to be operational at Howrah, Bangalore, Chennai and Secunderabad stations this month. Seven more will be launched at different stations, including Patna, New Jalpaiguri, Lucknow and Mysore next month.
An initiative of the Railway Passenger Services Committee, the food prices at the Jan Ahar outlets will be in the range of Rs 10 to Rs 35.
"These outlets will not be outsourced to private contractors. It will be run by IRCTC itself under the strict monitoring of the committee," said Derek O'brien, chairman of the passenger services committee.
The committee was constituted by railway minister Mamata Banerjee to suggest ways for improving food service at stations and trains as there were A large number of complaints against the quality of the food available.
While the Jan Ahar logo has been designed by a renowned designer, the colour combination of the outlet will be yellow and green.
"We have chosen the green and yellow colour to give a youthful and vibrant look to the outlet," he said.
There will be sitting arrangement for a minimum of 50 persons at the outlet. The tables will be yellow in colour and chairs will be green.
"The waiter will be clad in a yellow and green uniform and a matching cap," O'brien said, adding every month three to four Jan Ahar outlets will be opening at major stations across the country.