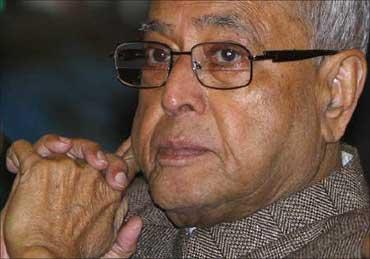 Finance Minister Pranab Mukherjee is an important player in the G-20 grouping of the top 20 economies of the world, the US said on Wednesday ahead of meetings between finance ministers of these countries in Washington on the sidelines of the International Monetary Fund and World Bank's annual meetings.

Mukherjee, who arrived in Washington late on Wednesday night after a successful day-long trip to New York, is slated to meet US Treasury Secretary Timothy Geithner on Thursday at the India-US chief executive officer Forum meetings.

"He (Geithner) looks forward very much to seeing him again in Washington. He saw him a few months ago. They had a very robust dialogue. They've got a very good, close working relationship," a senior Treasury official said.

"And of course, Finance Minister Mukherjee is a very important player within the G-20 as well," the Treasury official said on condition of anonymity, recognising the crucial role being played by Mukherjee in international forums like the G-20, where the US is increasingly looking at India's support to address key global challenges.

On Wednesday, Mukherjee addressed two press conferences at the International Monetary Fund.

After addressing the India-US CEO Forum meeting at the Foggy Bottom headquarters of the State Department, the Finance Minister would head to the IMF headquarters a few blocks away to hold crucial meetings with his counterparts from BRICS (Brazil, Russia, India, China and South Africa) nations.

"Our expectations would be that as BRICS countries, we will take stock of the current global environment and look at the consequences of the two-speed recovery that we are experiencing at the moment," said South African Finance Minister Pravin Gordhan.

"Secondly, I am still of the view that we do require a coordinated and coherent G-20 response to the post-crisis recovery period, Gordhan said.

However, "That response would have to be premised on the understanding that each country on the G-20 table would have its own national imperatives that it would have to respond, but at the same time would have to find the space to ensure that the global coordination and a globally agreed set of responses can be formulated sooner than later," he added.

Later in the afternoon, Gordhan would hand over the presidency of G-24 countries to Mukherjee.

This would mark India's taking over presidency of the G-24 after a gap of almost three decades.


Image: Pranab Mukherjee