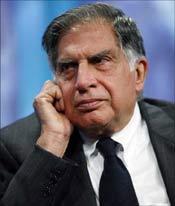 Seeking to address the issue of challenges to inclusive growth in emerging economies, Tata Group chairman Ratan Tata on Wednesday said that at the Bottom of the Pyramid (BOP) people still do not have access to products and services, as they are still slightly beyond their reach.
"India is a country normally referred to the consuming markets of 253 million people. And when we analyse that market we see with the prosperity that India is enjoying today there is an upward movement of people into the consuming market," Ratan N Tata said in a video recorded message shown at the international conference on challenges to inclusive growth in the emerging economies organised at IIM-A, in memory of late Prof C K Prahlad here.
"At the BOP, people are still not having access to product and services, which is still slightly beyond their reach," Tata said in the message.
"There is a need to serve broader base of pyramid. Innovation or technology can be used for redefining the products so that we can address the base of pyramid," he said.
In economics, the BOP is the largest, but poorest socio-economic group. The phrase bottom of the pyramid is used in particular by people developing new models of doing business that deliberately target that demographic, often using new technology.
Late C K Prahlad, a alumnus of IIM-A, had identified dozen principles, as the building blocks of a philosophy of product or service development and innovation that reflects the realities of (BOP) markets.
"Industry by and large is aiming for the tip of the pyramid and neglecting the bottom of pyramid," Tata said in the message.
"If you do that then consumer market we are talking about is about 500 to 600 million people which is phenomenally large," he said.
Tata dubbed some of the group projects like Tata Nano, Tata Ace, a commercial vehicle, Ginger chain of hotels and water purification activities undertaken by the group as few independent initiatives.
"You find today that we (industry) have found ways of delivering to that market.. the market has buying power and apetite, which is tremendous base for growth," he said.
According to Tata, cell phones was a good example of that. The country today boasts of close to 700 million odd subscribers, after 10 years of innovation in the sector.