India's auto major Tata Motors on Tuesday launched its mini-truck 'Ace Super City Giant' in Thailand and also disclosed plans to enter the Thai car market in the next "couple of years".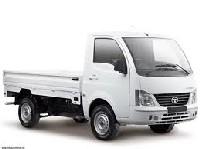 The company is also looking to tap opportunities in the Malaysia and Indonesia. "We would like to get into the car market here soon. Small car is the largest segment here and in a couple of year's time we expect to be there," Tata Motors Thailand CEO Ajit Venkataraman said at the Thailand International Motor Expo.

The company said it was also actively working to enter medium and heavy commercial vehicles (M&HCV) segment here. Commenting on the entry into the Thailand's mini-truck market, Tata Motors Thailand General Manager Sompong Polchitcharoon said the company expected to sell about 150 units a month of the Ace Super City Giant.

This mini-truck, he said, is priced at 3,49,000 Baht (about Rs 5.28 lakhs) aiming to take away half of what Japanese rival Suzuki sells right now.

The Thai auto market is expected to touch volumes of 7,20,000 units in 2010, out of which the pick up and small cars have 45 per cent each and the rest is accounted for by the other vehicles segment.

When asked about the period when Tata plans to launch cars in Thai market, Venkataraman declined to give exact timeline and also the possible models that the company is likely to launch.

"It is a very competitive market here and we have to pick and choose our models correctly. But once we have established our self in the market, we will go to the mass market," Venkataraman said.

Polchitcharoon said the ideal time for the firm to enter the cars segment would only be when it has established a good dealer and service network. "Right now, we have 40 dealers and we would need that to be at least 70 before we enter the car market here," he said.

On the company's plans for other South East Asian markets, Venkataraman said Tata Motors was currently exploring the Malaysian and Indonesian markets. "In Malaysia, we already have vehicles parked there and we are looking for dealerships, while we are yet to start work for Indonesia," he said, adding the Thai operations would be used to serve those markets.

Venkataraman said the company was also working on carving its presence in the Thai M&HCV segment. "It is a work going on parallel with the cars, but we would expect to enter the segment before the cars," he said. Currently, market studies and testing of vehicles are being conducted by the company.