Suuti's merchant bankers give proposal; deal value could be Rs 2,800 crore

The Ajay Piramal-promoted Piramal Enterprises is evaluating a proposal from merchant bankers to acquire a five per cent stake in Axis Bank through block deals.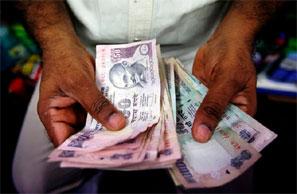 Bankers appointed by the Specified Undertaking of Unit Trust of India (Suuti) are preparing to offload the government's 20.7 per cent stake. Last week, Suuti had appointed JPMorgan, Citigroup Global Markets and JM Financial as merchant bankers.
According to Reserve Bank of India (RBI) guidelines, no specific permission is required for acquiring up to five per cent stake in a bank. Going by Axis' market capitalisation of Rs 56,640 crore (Rs 566.4 billion) on Friday, the value of a five per cent stake comes to Rs 2,800 crore (Rs 28 billion).

The bankers are expected to sell the entire stake to institutions and high-networth individuals, in line with the guidelines on block deals specified by the Securities and Exchange Board of India.

"Bankers have approached Piramal and the company is evaluating the opportunity," said an investment banker familiar with the developments. Two other bankers confirmed the development. When asked, a spokesperson for Piramal said: "As a company policy, we do not comment on speculation."

Piramal Enterprises has a lot of cash. Last month, it sold a 10.97 per cent stake in Vodafone India for Rs 8,900 crore (Rs 89 billion). It had invested Rs 5,900 crore (Rs 59 billion) in two tranches — of Rs 2,893 crore (Rs 28.93 billion) in 2011 and of Rs 3,007 crore (Rs 30.07 billion) in 2012 — to buy the stake. In a little less than two years, it has sold the stake at a premium of over 50 per cent.

The company sold its domestic formulations business to Abbott for Rs 18,000 crore (Rs 180 billion) in 2010. In the past three years, it has acquired new capabilities and enhanced existing ones by buying primarily in life sciences, pharmaceutical solutions and information management systems. It has also emerged a savvy investor.

Suuti was formed in 2003 as an offshoot of the erstwhile Unit Trust of India, which had a minority stake in Axis, ITC and Larsen & Toubro. In March 2012, the government cleared the proposal to wind up Suuti and create a National Asset Management Company. The company was, in turn, expected to leverage the assets for a bank loan to buy government stakes in public-sector companies. However, earlier this month, the government decided not to wind up Suuti and sell the stake in the companies. The sale procedure for Suuti's stakes in ITC and L&T has not been started yet.

Life Insurance Corporation of India is the second-largest promoter in Axis after Suuti, with a 9.32 per cent stake as on December 31. Other public-sector insurance companies GIC, National Insurance, Oriental Insurance and United India Insurance own 1.64, 0.74, 0.88, 0.28 and 0.29 per cent of the 33.87 per cent promoter stake, respectively.