The Group of Ministers (GoM) asked to finalise a new drug pricing policy, headed by Agricultural Minister Sharad Pawar, might make some changes to the earlier draft to disarm the finance ministry's objections.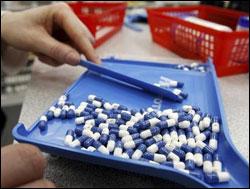 Finance Minister P Chidambaram is a special invitee to the panel's meeting this week. The GoM draft had suggested the capping of 348 essential medicines at the weighted average of all drugs in a particular segment with more than one per cent market share.
However, the finance ministry raised objections and wanted the existing cost-plus method. Sources said the department of pharmaceuticals (DoP) had prepared a detailed presentation to explain the need for changing the pricing mechanism to Chidambaram.
However, th DoP is also readying some changes. "For instance, the department might propose the annual hike in drug prices continue as now instead of basing it on the wholesale price index, as was proposed by the GoM," a source said.
Under the existing mechanism, the government directly caps the prices of 74 bulk drugs. All the medicines containing one or more of these bulk drugs come under price control, based on the cost-plus formula. For all other medicines, the government allows companies to raise prices by up to 10 per cent annually.
As another compromise, the DoP might propose to cap the prices at the weighted average while allowing an annual rise of up to 10 per cent annually on the ceiling, the source said.
"This would put to rest the contention that low-priced drugs would become expensive under the proposed mechanism. A 10 per cent annual hike would ensure that drugs that are priced low would suddenly not become too expensive," he added.
The GoM might also agree to remove the clause of one per cent market share and instead cap prices at the weighted average of all drugs, the source said.
The GoM is expected to meet by Wednesday, so that the proposal can be taken to the cabinet within this week. The latter was to have taken up the matter some days earlier but after the finance ministry's last-minute concerns, the Prime Minister's Office referred the draft back to the GoM.
The government has been slammed a number of times by the Supreme Court for delaying the policy since 2003. It is now hurrying, with the matter scheduled to come before the apex court on November 27.
Photograph: Mark Blinch/Reuters