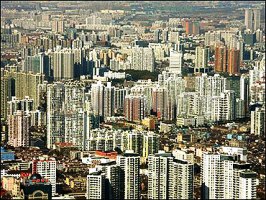 Potential buyers of real estate are likely to feel a tad disappointed.

With the Reserve Bank of India red-flagging 20:80 home loan schemes, many would feel buying a property would become more difficult.

After all, by just paying 20 or 25 per cent in an under-construction project, they were going to own a property in a few years.

The bank paid the remaining 75-80 per cent to the builder.

The best part: The builder was willing to pay the interest cost for a limited period.

For the builder, the scheme meant cheap money.

After former RBI Governor Y V Reddy barred banks from extending land loans, builders used such schemes to raise cash from potential buyers or even investors.

This also helped them during the construction period, as home loans are cheaper at 10 per cent or even less.

Many private sector banks were lending quite aggressively under such schemes. But much like the teaser loans, made famous by the State Bank of India, this scheme has now come under RBI's glare.

But buyers need not feel distressed because this guideline means more transparency and the property prices might actually start coming down.

Says Adhil Shetty of BankBazaar.com: "The only disadvantage is that the interest cost borne by builders for a small period will be gone.

"But, the advantages outweigh the disadvantage.

"This move will help lower property prices as builders will be in need of cash,"
he says.
The RBI feels that if the builder were to default on their payments, buyers would be hurt, both in terms of credit rating and finances.
"The bank will come after the borrower for payment. And if the borrower cannot pay up at that time, it will show on his/her credit score," says Harsh Roongta of
Apnapaisa.com
.
Besides the buyer angle, this move could put pressure on builders to get rid of inventories as well.
According to a banker: "Many builders have been holding on to prices because after raising money through such schemes, they have used the money to build other projects.
"So even if they have not sold one project, they are not worried about prices."
When loans will be disbursed in line with the construction stage, the builder will be forced to adhere to deadlines to get more money.
In addition, he will concentrate on fewer projects at one time.
According to Shobhit Agarwal, managing director -- capital markets at Jones Lang LaSalle India, this move is aimed at protecting the interest of buyers not aware of the long-term financial implications of similar schemes.
It is meant to advance greater transparency in the real estate sector.
Some bankers feel the possibility of project delays might increase because of the cash crunch and existing buyers may come under more pressure to pay even if the bank disburses. Some builders use such pressure tactics even now.
However, this move will help buyers in the long run.