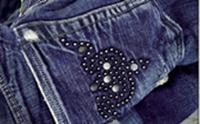 Pepe Jeans India plans to open 50 more stores pan-India in the next 12 months which would give it a stronger market presence.
"We plan to open 50 more stores on a franchisee basis and have earmarked an investment of Rs 50 crore for this," Pepe Jeans India managing director Chetan Shah told PTI.
The new stores will be opened over the next 12 months, he said.
Launched in 1989 in the country, Pepe Jeans currently has a 25 per cent marketshare in the premium jeans and casual- wear segment.
"We are targeting a 20 per cent growth in the next five years," Shah said.
On the industry trend going forward, he said "in the next five years, growth will be controlled as the market is getting corrected."
"Overall, the market in this segment has de-grown but we have grown as we have (captured) the market shares of some other brands," Shah said. On some players offering EMIs to increase the sales of their jeans wear and other accessories, Shah said such schemes could dilute the equities of those companies.
Pepe Jeans is not in favour of such schemes, he said.