A year after test-marketing its traditional snacks in the northern states of Uttar Pradesh and Madhya Pradesh, Mumbai-based Parle Products, also one of the largest biscuit makers in the country, is set to launch the product primarily in the west and the north of the country.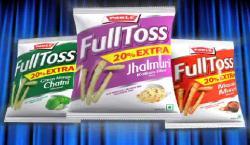 Called Parle Namkeen, the snacks will be available in three categories - mixture, bhujia and dal - and will compete head-on with companies such as Pepsi Foods, ITC, Haldiram's, Balaji, and so on.

The move to get into traditional snacks comes four years after Parle Products first launched chips and extruded snacks (much like Pepsi"s Kurkure) under the Musst brand name.

This was relaunched to Parle's for chips and Full Toss for extruded snacks in 2010 owing to the lack of response to the product in the marketplace.

Parle Products' group product manager B Krishna Rao says the chips in particular are now doing well in comparison to its earlier avatar under the Musst brand name.

Analysts say that Parle has done well in pushing the brand in high footfall and visible areas such as railway platforms besides kirana stores.

It has also lured consumers to its chips by offering 20 per cent and 25
per cent more than other players without charging extra for it.
The company is expected to use a similar strategy for its traditional snacks to drive visibility and sales. "To induce trials we will be offering our customers 25 per cent extra on each packet," Rao said.
The roughly Rs 9.500-crore (Rs 95 billion) snacks market in India is growing at about 15-20 per cent in India. Western snacks, including chips and extruded snacks, make up Rs 5,000 crore (Rs 50 billion) of the overall market, while Rs 4,500 crore (Rs 45 billion) is the traditional snack market comprising bhujias, dals, mixtures, and so on.
Price points are also very competitive with the Rs 5 and Rs 10 points being traditional favourites for snack companies.
In the last few months, however, owing to high inflation, companies have been reducing grammage at Rs 5 and Rs 10, forcing consumers to go for Rs 20 packs in the hope of getting some more.
Companies especially players such as Pepsi Foods and ITC have also been innovating when it comes to flavours, competing with each other to launch the most tasty product.
The run rate of launches among companies has also shot up in the last few years as consumption on the go increases.