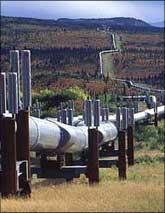 Pakistan has decided to ask the new Iranian government to completely finance a $1.8-billion bilateral gas pipeline project due to fears that US sanctions could hit funding for the venture.
The PML-N government in Islamabad will continue work on the pipeline and "discuss the project with the new Iranian cabinet for seeking the entire financing", Petroleum Minister Shahid Khaqan Abbasi has said.
Iran is facing sanctions and the Foreign Office has been asked to assess the impact of US curbs on the pipeline project, Abbasi said.
Iran had told the previous Pakistan People's Party-led government that it would provide a loan of $500 million for the project. Pakistan was expected to raise the remaining amount from global financial organisations.
The two countries had agreed to award the construction contract to Iranian firm Tadbir Energy. However, the contract could not be signed in the absence of sovereign guarantees by Pakistan, The Express Tribune reported today.
Foreign Office spokesman Aizaz Chaudhry said on Friday that the Iran-Pakistan pipeline had "high importance" in the context of the country's acute energy requirements. Pakistan's perspective was conveyed to the US side in the form of a non paper during Secretary of State John Kerry's visit to Islamabad this week, Chaudhry said.
"The rationale for giving a non paper to the US side was to convey our perspective, with particular reference to whether or not this project would attract US sanctions," he said.