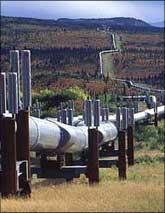 Pakistan on Thursday said it was committed to the ambitious $7.5 billion gas pipeline project with Iran despite the venture running into rough weather over financing.
"Given the acute energy requirements of Pakistan, the government remains committed to all options for addressing our energy needs, including the Iran-Pakistan pipeline project," Foreign Office spokesman Aizaz Chaudhry told a weekly news briefing.
He was responding to queries on Iranian Oil Minister Bijan Zanganeh's statement on Wednesday that there is "no hope" for exporting gas to Pakistan because of the lack of financing to finish the pipeline.
"Given the current conditions, we do not have hope for exporting gas to Pakistan...It seems improbable to export gas," Zanganeh was quoted as saying.
In the face of stiff US opposition to the project, Pakistan's Petroleum Minister Shahid Khaqan Abbasi recently asked Iran to provide $2 billion to pay for the Pakistani section of the pipeline.
India too was initially interested in the pipeline project with Iran but it is now looking at the Turkmenistan-Afghanistan-Pakistan-India project that the US is promoting as an alternate.
Sources in the Pakistani government said they were interested in going ahead with the project with Iran but the cost and overall financial implications are becoming a hurdle.
Leading Pakistani think tank Sustainable Development Policy Institute last week said the pipeline project would be a "death sentence" as the prices are too high.

It said Pakistan needs to re-negotiate the gas price. The sources said another worry is the terms of the project as Pakistan could end up paying over $1 million per day if the pipeline is delayed.
The Iranian side of the project is almost complete but Pakistan has run into repeated problems in paying for the 780-km section to be built on its side. The threat of US sanctions has scared away international investors.
Gas is used to fire many of Pakistan's power plants but insufficient quantities mean there are long blackouts.