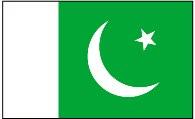 As the sun began to set on the Lifestyle Pakistan exhibition, there was a sense of exhilaration at what had been accomplished among the Pak business delegation, the largest ever till date to come here.
"Delhi citizens were pleasantly surprised at Pakistani products, buying bags and bags of things. Here, people don't know much about Pakistan, as much as we know about India," said Jalal Salahuddin, whose event management company, J&S, brought the mission to India in partnership with its Indian counterpart, Compass. "Even the richest man in Pakistan, Mansha, is here. Everyone's looking at tie- ups, from marble to textiles."
Currently, trade between the two countries is relatively abysmal, at some $2.5 billion per year. Indo-Pak trade constitutes just one per cent of the trade volume of each country, compared to 50 per cent in most regional blocs, says Ziad Bashir of Gul Ahmed, one of the leading garment and textile houses in Pakistan. "The pie is big enough for companies on both sides. It's a win-win situation."
There hasn't been any official notification yet on foreign direct investment (FDI) from Pak companies. Yet, companies on both sides of the border have already begun to feverishly appraise opportunities. "We've had lots of people come over and talk to us. We need to go back and mull things over and figure out how we want to enter India - as a franchisee model, a distribution model or something else," says Gul Ahmed's Bashir.
There are businessmen who didn't make it to Delhi this time but are keenly watching developments from Pakistan.
One is Tariq Saigol, head of Kohinoor Maple Leaf Group, one of Pakistan's largest business houses, with interests in cement and textiles and, someone who's been pushing for a trade dialogue with India for a long time.
Things have changed considerably since, say, 1995,
when he was head of the Lahore Chamber of Commerce and Industry, he explains. "The mood then was severe," he told Business Standard from Lahore. "There was a feeling that Indian industry would swamp us. Now, things are less emotional and more objective. There's a realisation that there can be benefits to both sides."
'It's a great opportunity," said Ali Raza Siddiqui of the Jahangir Siddiqui Group, which does everything from investment banking to oil and gas exploration. "Pakistan can import tonnes of high-quality steel, which India makes. Similarly, India can benefit from Pakistan's fertilisers," he told Business Standard from Karachi.
This kind of trade prospect, on the basis of comparative advantage, is something Saigol relishes.
"We have big surpluses in cement, thanks to overcapacity during the Musharraf years, which is in shortage in India's western states like Haryana, Rajasthan and Punjab. Similarly, we need coal and coke for our products, which India makes in abundance," he adds.
"Plus, booming business in one sector can have significant impact on another. For the finance community, this will be a massive boon; it will be fantastic. Both countries' banks will benefit through the many extended lines of credit that they will have to start issuing," said Siddiqui.
He said his family's various diverse ventures were busy analysing this emerging opportunity. "There's always the fear that some crackpot will spoil the party," said Saigol. "But, if there's an intellectual belief in trying to solve this bottom-up rather than top-down, then it could actually work."
For both countries, the rapprochement comes at an ideal time. India is going through an economic malaise of sorts and Pakistan is trundling along at a sub-three per cent growth rate. "Our economic slumps can be wiped out in just a year," said Gul Ahmed's Bashir. "This is the time to make it happen."