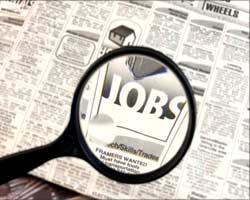 Orissa intends to make it mandatory for the private sector setting up shop here to reserve for locals 90 per cent jobs in the unskilled and semi-skilled category, up to 60 per cent in skilled category and 30 per cent for the supervisory and managerial cadre.
The state has of late been facing tremendous public resentment over recruitment of a large number of non-Oriya people in different projects being set up in Bhubaneswar.
Orissa has attracted investments worth Rs 6 lakh crore (Rs 6 trillion) in the recent past.
"All new MoUs for industrial projects and those which are due for renewal will have a compulsory clause reserving jobs for the locals," Orissa's Industries Minister Raghunath Mohanty told Business Standard.
A minimum of 90 per cent of the jobs in the unskilled and semi-skilled category will be reserved for people belonging to the area where the project is being established.
At the skilled level, the minimum reservation for locals will be to the extent of 60 per cent, while it will be at least 30 per cent for the supervisory or managerial cadre," the minister said.
"For the posts of senior executives, the companies are free to recruit from the open market."
Mohanty clarified that "locals" would mean those displaced by a project, followed by  people domiciled in Orissa.
According to him, to strictly implement the clause, companies signing MoUs will be asked to submit employment status report in a prescribed format to the district collectors, with a copy to the revenue divisional commissioner and departments concerned every month.
Of the 86 companies that inked MoUs with the state government, 33 have begun work on their projects. Although some of the big-ticket investments, such as Posco and ArcelorMittal, have not made much headway.
In the steel sector, 29 out of 49 companies have started partial production, adding over 7 million tonnes to the state's steel capacity. The steel sector has witnessed investments of over Rs 50,000 crore (Rs 500 billion).
This apart, the steel players have achieved 1,062 Mw capacity of power through their captive power plants. Investments in the steel sector have so far generated direct employment for 21,617 people, besides creating 50,542 indirect jobs. 
Two of the three industry representatives this reporter spoke to welcomed the state government move.
"It is a welcome clause and should have been put in place much earlier. The state should also incorporate a clause for industries to source goods from the local players," Niranjan Mohanty, past president of Utkal Chamber of Commerce and Industry, said.
Rajdeep Mohanty, resident director, JSL Ltd (formerly Jindal Stainless Steel), said: "Our company is already adhering to the guidelines set by the state government and we are submitting a report to the district collector on the employment status every month.
"A total of 900 people have been employed for JSL's Kalinganagar plant."
However, an industrialist not willing to be named, termed the employment clause as restrictive and said it "will curb free movement of labour and also dissuade industries from choosing labour force of their will".
But Rajdeep Mohanty did not agree with this view. "I don't think so, as there is plenty of talented labour force available in the state.
"Besides, ITIs are coming up in every block which will meet the manpower needs of the upcoming industries. In any case, migrant labour is not preferred by the industries, as the long-term retention of such labour is difficult."
Interestingly, trade unions have also opposed the move.
Hind Mazdoor Sabha general secretary R A Mittal said: "No state has so far imposed such restrictions on the private sector and, in Orissa, perhaps, it has been necessitated by the circumstances in which people are losing land and jobs."
He added that BHEL and Railways reserved jobs for locals in places where land was acquired for factories.
R V Subba Rao, president, Bharatiya Mazdoor Sangh, said: "Restrictions on the movement of labour is unheard of in the private sector. Orissa will set a precedent."
It has been prevalent in government jobs, he said, pointing out the instance of Andhra Pradesh where at the time of the formation of the state in 1966, a government order was passed on restricting state jobs in Andhra and Telengana regions to people born in those regions.
With inputs by Sreelatha Menon in New Delhi