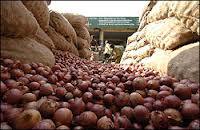 Onion prices remained at high level of up to Rs 70 per kg in retail markets in the national capital on Thursday even as the government had announced a slew of measures to rein in rising rates of the commodity.

Traders said wholesale prices are firm as supplies from producing regions have been lower in the past couple of days.

Street vendors charge anything between Rs 55 and Rs 70 for one kg of onion in Delhi, depending on the locality and quality of the bulb, a key ingredient in most food items.

Organised retailer Mother Dairy is selling onions at three rates, Rs 40, Rs 47 and Rs 49 per kg, based on the quality, through its 400 Safal outlets in the NCR. Cooperative major Nafed is offering a price of Rs 40 per kg through its 5 outlets and mobile vans.

"Prices have gone up in the Azadpur market on Thursday.

"We will raise the price by Rs 2/kg tomorrow," Mother Dairy Business Head (Horticulture) Pradipta Kumar Sahoo said.

Onion Merchant Traders Association President Surendra Budhiraj said prices remain firm at Rs 45-50
per kg in Azadpur market as supply has declined by almost half.
Only 7,000 quintal came on Thursday against a normal 12,000 quintals, he said.
At Lasalgaon in Nashik district of Maharashtra, a major producing region, prices were more or less stable at around Rs 43 per kg, according to National Horticulture Research and Development Foundation data.
"Prices will remain high as farmers and traders are going to keep supplies under stress to maintain high level of onion prices," a senior official of NHRDF said.
Nafed on Wednesday floated a tender to import onion from Pakistan, Iran, China and Egypt.
The co-operative was asked by the government to import onion to boost domestic supplies and control rising prices.
Besides import, the government had imposed a minimum export price of $650 per tonne to curb outward shipments.
A senior Nafed official said stocks are getting exhausted in Maharashtra, but arrival from Karnataka and Andhra Pradesh has started, though pace is slow.
Supply is expected to pick up early next month and ease prices.