* Q2 profit 60.6 bln rupees vs estimate of 59 bln
* Higher subsidy, exploration write-offs weigh on profitability
* ONGC shares close 1.1 pct higher in Mumbai trade

India's Oil and Natural Gas Corp on Wednesday reported modest profit growth in the second quarter, raising concerns about its ability to finance a major investment programme while shouldering the burden of hefty domestic subsidies.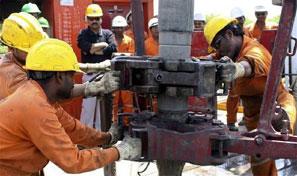 India's largest oil and gas exploration company, ONGC is raising debt for a spate of acquisitions over the past year that gave it interests in overseas oil and gas blocks. It is also looking to spend heavily to maintain output at ageing production fields in India and for exploration of newer blocks there.
"The realisations (earnings per barrel) are much less than what we need to maintain production," ONGC Chairman Sudhir Vasudeva told reporters in New Delhi, adding that if the current situation continues, the company may have to draw down reserves.
"It will not only affect us but also reflect on (overseas arm) ONGC Videsh because the cost of capital will increase."
India imports nearly 80 percent of its crude needs. Its state-run oil firms have been hit hard this year because the government, facing tough state and national elections, has not allowed significant increases in retail fuel prices to offset the impact of higher crude prices and a sharp fall in the rupee.
Fuel subsidies for the fiscal year ending March 2014 are expected to be 1.4 trillion rupees ($22 billion), more than double the budgeted number. Explorers such as ONGC and Oil India are forced to share the burden by selling crude to state refiners at a fixed $56 per barrel discount to global prices.
ONGC posted a net profit of 60.64 billion rupees ($953 million) for the quarter ended Sept. 30, up 2.8 percent from 58.97 billion rupees last year. Net sales rose 12.8 percent to 223.12 billion rupees.
Analysts, on average, had expected a net profit of 59 billion rupees, according to Thomson Reuters Starmine data.
"Their margins are under pressure. The subsidy burden is taking its toll, but its not something they have control over," said Jagannadham Thunuguntla, head of research at SMC Global Securities.
These are the first results since ONGC entered into a $2.6 billion deal to acquire a 10 percent stake in Mozambique's offshore Rovuma gas basin. Last month, it also agreed to buy a 12 percent of a Brazilian oil block in a $529 million deal.
The flat profit may lower the comfort level for investors and lenders at a time when ONGC is raising funds in the debt markets to finance its growth plans.
State-owned retailers Indian Oil Corp, Hindustan Petroleum Corp and Bharat Petroleum Corp reported steep profit declines for the quarter, hit by foreign exchange losses and lower subsidy compensation from the government.
Analysts expect the finances of state fuel retailers to remain under pressure for the next few quarters, given their high level of borrowings and the expected delay of about six months in receiving compensation for the losses on fuel sales.
ONGC said it gave discounts of 137.96 billion rupees to state refiners compared with 123.30 billion a year earlier. As a result, its net realisation fell to $44.8 per barrel from $46.8 a barrel a year ago. The company estimates it needs around $60 a barrel to keep operations viable.
Shares of ONGC, India's fourth-biggest company by market value, closed 1.1 percent higher ahead of the results. The stock is nearly flat so far in 2013, compared to a 2 percent fall in the sectoral index.
($1 = 63.64 rupees)
---
Additional reporting by Nidhi Verma in New Delhi