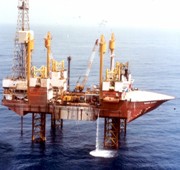 Oil and Natural Gas Corporation on Friday lost a bid to acquire a large oilfield in Iraq to a consortium of Chinese, Malaysian and French energy firms.
ONGC Videsh Ltd, overseas investment arm of the state-run explorer, teamed up with Oil India Ltd and Turkish Petroleum Corporation to bid for the Halfaya oilfield in Iraq's second post-war bid round on Friday.
It was, however, outsmarted by bid from China National Petroleum Corporation, Petronas Cargali Sdn Bhd of Malaysia and France's Total SA, sources said.
CNPC-Malaysia-Total offered to boost production from Halfaya to 535,000 barrels per day at a cost of $1.40 per barrel.
The OVL-led consortium had offered to boost output to 550,000 bpd but at a higher cost of $1.76 a barrel. Turkish Petroleum had a 50 per cent interest in the consortium, while OVL held 30 per cent.
OIL had the remaining 20 per cent. Baghdad has put 10 groups of fields on offer in the second tender. Halfaya field has 4.60 billion barrels of reserves with a projected 13-year peak output of a minimum 400,000 barrels per day (20 million tonnes a year).
The Indians also faced competition from Norway's Statoil ASA and Russian OAO Lukoil consortium which bid $1.53 per barrel to boost output to 600,000 bpd.