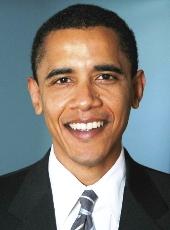 US President Barack Obama will lay out his vision to rebuild the economy in his second term through a series of speeches across the country beginning the same site in Illinois, where he delivered his first major economic speech on the national stage in 2005.

"The President will talk about the progress we've made together, the challenges that remain, and the path forward," the White House said today ahead of his speech scheduled for Wednesday. It did not provide details of the economic vision.

"Eight years ago, not long after he was elected to the US Senate, President Obama went to Knox College in his home state of Illinois where he laid out his economic vision. . .

It's a vision that says America is strongest when everybody's got a shot at opportunity -- not when our economy is winner-take-all, but when we're all in this together," Dan Pfeiffer, Senior Advisor to the President, wrote in a mass email.

"Revisiting that speech, it's clear that it sowed the seeds of a consistent vision for the middle class he's followed ever since.

"It's a vision he carried through his first campaign in 2008, it's a vision he carried through speeches like the one he gave at Georgetown University shortly after taking office that imagined a new foundation for our economy, and one in Osawatomie, Kansas on economic inequality in 2011, and it's a vision he carried through his last campaign in 2012," he said.

Pfeiffer said this Wednesday, almost five years after the financial crisis fueled a devastating recession, and two years after a debate over whether or not America would pay its bills that harmed our recovery, the President will return to Knox College to kick off a series of speeches that will lay out his vision for rebuilding an economy that puts the middle class and those fighting to join it front and center.

And over the next several weeks, he said, Obama will deliver speeches that touch on the cornerstones of what it means to be middle class in America: job security, a good education, a home, affordable health care sick, and the chance to save for a secure, dignified retirement.

"They will include new ideas and new pushes for ideas he has discussed before.

"They'll outline steps Congress can take, steps he'll take on his own, and steps the private sector can take that benefit us all," he said.
Image: Barack Obama