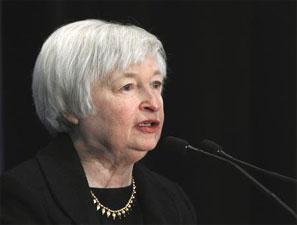 US President Barack Obama has nominated Janet Yellen to head the Federal Reserve Board, describing her as one of America's "foremost economists and policy makers".
If confirmed by the Senate, 67-year-old Yellen will become the first woman ever to lead the country's powerful central bank. She will replace Ben Bernanke as Chair of the Federal Reserve Board. Bernanke will serve until his term ends on January 31.
"America's workers and families will have a champion in Janet," Obama said at a ceremony in the White House.
"She is a proven leader, and she's tough. Not just because she is from Brooklyn," he said while describing Yellen as "exceptionally qualified" for one of the most important jobs in the world.
In brief her remarks, Yellen said the US economy was recovering, but more needs to be done.
"We can and must safeguard the financial system," said Yellen, currently Vice Chairman of the Board of Governors of the Federal Reserve System, a role to which she was appointed in October 2010.
Prior to joining the Board, Yellen spent much of her career at the University of California at Berkeley's Haas School of Business, where she is Professor Emerita.
She began teaching at UC Berkeley in 1980 and till 2010 she held a series of other positions, most recently as President and Chief Executive Officer of the Federal Reserve Bank of San Francisco from 2004 to 2010.
She also previously served as Chair of the Council of Economic Advisers from 1997 to 1999 and as a Governor of the Federal Reserve Board from 1994 to 1997.
Prior to teaching at UC Berkeley, she was a Lecturer at the London School of Economics and Political Science from 1978 to 1980, an economist with the Federal Reserve Board of Governors from 1977 to 1978, and an assistant professor at Harvard from 1971 until 1976.
She earned a BA in economics from Brown University and a PhD in economics from Yale University.