US President Barack Obama on Wednesday signed an executive order and announced a slew of measures to protect America's critical infrastructure from cyber threats from foreign countries, hackers and other enemies.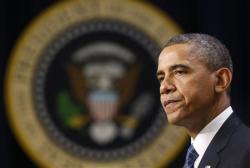 In his State of the Union address to the US Congress, Obama said that threat from the cyber-attack has been growing rapidly.

"Our enemies are also seeking the ability to sabotage our power grid, our financial institutions, and our air traffic control systems. We cannot look back years from now and wonder why we did nothing in the face of real threats to our security and our economy," he said.

Obama announced that he signed a new executive order that will strengthen the country's cyber defenses by increasing information sharing, and developing standards to protect its national security, jobs, and privacy.

"Now, Congress must act as well, by passing legislation to give our government a greater capacity to secure our networks and deter attacks," he said.

At the start of his administration, Obama had declared that the "cyber threat is one of the most serious economic and national security challenges we face as a nation."

The executive order is aimed at strengthening cyber-security of critical infrastructure by increasing information sharing and by jointly developing and implementing a framework of cybersecurity practices with industry partners.

The Executive Order requires Federal agencies to produce unclassified reports of threats to US companies and requires the reports to be shared in a timely manner.

It
enables near real time sharing of cyber threat information to assist participating critical infrastructure companies in their cyber protection efforts.
National Institute of Standards and Technology (NIST) will lead development of a framework of cybersecurity practices to reduce cyber risks to critical infrastructure.
Among other things the executive order establishes a voluntary programme to promote the adoption of the Cyber-security Framework. It also calls for a review of existing cybersecurity regulation.
However, three top Republican Senators - John McCain, Saxby Chambliss and John Thune - were highly critical of the Executive Order, arguing that it cannot achieve the balanced approach that must be accomplished collaboratively through legislation and with the support of the American people.
"We will closely examine the Executive Order and ensure that there is thorough Congressional oversight of any action it directs. As the 113th Congress gets underway, the Senate should follow regular order and craft legislation that will have an immediate impact on our nation's cybersecurity without adding or prompting regulations that could discourage innovation and negatively impact our struggling economy," the Senators said in a joint statement.
To complement the Cyber Security Executive Order, the Obama Administration also issued a Presidential Policy Directive on critical infrastructure security.