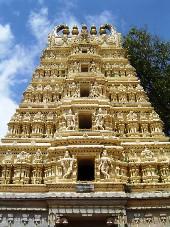 New York Times' recognition to the yoga-centric Mysore has come as a shot in the arm of those engaged in tourism trade in this city of palaces.
NYT has placed Mysore as the 4th best city among the 31 places to visit in 2010 under tourism.
It says: "Yogis seeking transcontinental bliss head these days to Mysore, the City of Palaces, in southern India. Mysore's yoga boom now has shalas catering to every need."
It describes K Pattabhi Jois as the one who 'sparked the Ashtanga Yoga'. Jois died at 94 in 2009.
His grandson now heads the Ashtanga Yoga Research Institute. Off the mat, NYT adds the Yoga tribe studies Sanskrit, gets an Ayurveda treatment or tours the Maharaja's Palace.
The NYT has thus recognised the cultural heritage of the city. All the four branches which the NYT has recognised had a big support from the Maharajas.
In fact, Pattabhi Jois' Guru T Krishnamacharya was a great Yoga master who treated Krishnaraja Wadiyar when he fell ill, and the Maharaja became his patron and encouraged him to set up his Yogashala to train students at the Jaganmohan Palace premises.
The Acharya's two famous disciples, Pattabhi Jois and B K S Iyengar, have taken yoga global by training hundreds of students, who in turn have become yoga teachers spread across the world. Their yoga has become a money-spinner as 'Jois Yoga' and 'Iyengar Yoga'.
Hailing the NYT tag, Hotel Owners' Association President M Rajendra says it shows that Mysore is increasingly being recognised as a tourist city. It is fast developing as a tourist city.
The state government should at least now bestow interest to develop Mysore with better infrastructure and other facilities.
"We are proud to be Mysoreans because Mysore is a city of Palaces and heritage buildings. The NYT survey indicates that the city is the best yoga centre. It is an indication that Mysore is growing fast as the best tourist destination," says Mysore Travel Mart Chairman S P Shanthinath.
But, he adds, the city needs to be developed with more amenities for tourists. Let alone unexplored, even explored tourist places lack infrastructure facilities like good roads, restaurants and toilets, he says suggesting Palace illumination throughout the year.
Tourism will be the spring-board for the people of Mysore and Kodagu districts as both are major centres of attraction. But unfortunately, none of the governments is giving attention to cash on this, laments Mysore MP A H Viswanath.
Speaking to Business Standard, he says at least now the state government must give greater emphasis for development of tourism in Mysore. It should convene a meeting of all those engaged in tourism in Mysore and discuss the projects to be taken up on top priority.
Meanwhile, without waiting for the government, tour operators, travel agents and transport operators should take initiative to offer facilities like conducted tours and chartered flights, he adds.
Image: Mysore Palace