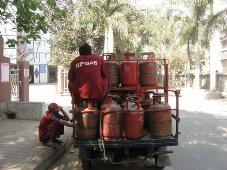 The price of non-subsidised cooking gas was on Friday hiked by Rs 46.50 per cylinder as part of reform measures unleashed by the government to trim its huge fuel subsidy bill.

A 14.2-kg LPG cylinder that consumers will have to buy after they exhaust their enhanced quota of 9 subsidised bottles in a year, will cost Rs 942 from today, according to Indian Oil Corporation.

Oil PSUs had last hiked the price of non-subsidised LPG by Rs 26.50 per cylinder on November 1, but had to roll it back within hours as the government did not want to compound the backlash it was already facing for limiting supply of subsidised LPG to just six cylinders per household in a year.

However, after Thursday's government decision to raise the supply of LPG at subsidised rate of Rs 410.50 to 9 cylinders per household in a year from six, the rate for non-subsidised gas was hiked by Rs 46.50 per 14.2-kg cylinder to Rs 942
in Delhi.
The government also moved towards deregulating diesel rates when it raised prices by 50 paisa per litre and planned similar monthly hikes in future.
This was coupled with a decision to charge bulk consumers like defence, railways and state transport undertakings market price which is almost Rs 10 a litre more than retail selling rate, to save an estimated Rs 12,907 crore in annual subsidy.
As a sweetener to the bitter pill, the Cabinet Committee on Political Affairs chaired by Prime Minister Manmohan Singh bowed to public pressure to raise the cap on subsidised LPG to nine cylinders per household from six.
State-owned oil companies in a parallel cut petrol price by 25 paise a litre in view of softening in global oil rates.