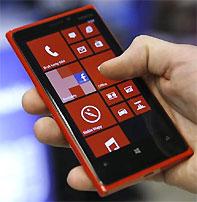 The Income Tax department on Friday moved the Delhi High Court seeking "directions/clarifications" of the December 12 order by which the assets of mobile phone handset maker Nokia in India were defreezed.
A bench, headed by Justice S Ravindra Bhat, posted the plea of the IT department for January 17 before another bench which had on December 12 paved the way for the sale of Finnish mobile firm to Microsoft subject to certain conditions.
The conditions included that Nokia India will deposit a minimum of Rs 2,250 crore in an escrow account while its parent company Nokia Corporation(Corp) would be liable to pay the tax dues as applicable under the Income Tax Act upto maximum of Rs 3,500 crore.
Seeking modifications in the order, the IT department, in its fresh application, said "in the conditions imposed by the High Court ..., the situs of amount of Rs 3,500 crore and the realisation thereof is not stated/directed.
"It is requested, for the sake of clarity, to issue necessary directions for placing the aforesaid amount also in an escrow account preferably in India. The IT department also very humbly seeks directions/clarification for payment of the said amount of Rs 3,500 crore as and when the demand is raised and is due for payment."
The court had on December 12 allowed the plea of Nokia for lifting of a stay on transfer of its assets in India. The firm had said that the injunction will jeopardize the sale of its Indian arm to Microsoft under a $7.2 billion global deal.
The IT department, which had rejected the offer of Nokia to pay a minimum deposit of Rs 2,250 crore (Rs 22.50 billion) to it, said Nokia India and Nokia Corporation owe it Rs 21,153 crore (Rs 211.53 billion) as total tax liability (existing and anticipated), including penalty during a seven-year period from 2006-2013.