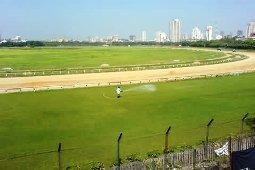 The Directorate General of Civil Aviation has suspended all helicopter operations at the Mahalaxmi Racecourse in Mumbai, after a safety audit revealed it lacked fire-fighting facilities and was functioning without required regulatory approvals.

On Monday, DGCA officials and the Rotary Wing Society of India regional president, Uday Geli, had inspected the helipad.

It is widely used  by companies such as the Reliance, Raymond and Bajaj groups.

Both the Ambani brothers use this helipad daily to travel to their offices in Navi Mumbai. It sees 15-20 flights daily.

Helicopter operations are not permitted at Mumbai airport. Most operators use ferry flights from Juhu to Mahalaxmi.

"They pick up passengers from Mahalaxmi and transport them to 
the destination,'' an aviation source said.
"The helipad area is not clearly identified. It is just a maidan (open ground) There are no fire tenders.
"If some incident would have happened, DGCA would have been blamed. We have ordered suspension of operations till the defects are rectified,'' he said.
DGCA decided on an audit following concerns expressed by helicopter operators at a meeting in Delhi two weeks earlier.
Geli says the helipad does not comply with the regulatory norms and lacks safety measures.
It is also not fit for the larger helicopters which operate from there.
Even the final approach and take-off areas have obstacles, he said.
Operators also note Mahalaxmi has no air traffic control service and pilots have to call the Mumbai ATC for engine start-up and take-off permission.
"This causes delays,'' source said.