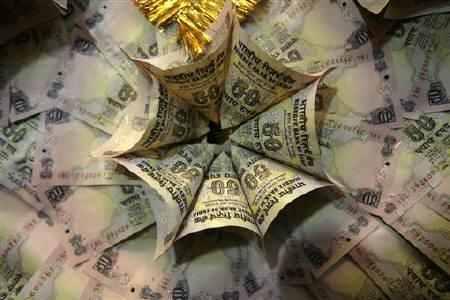 Bankers on Tuesday ruled out any immediate reduction in lending rates, saying any step in that direction will be determined by the cost of funds.
They, however, indicated that interest rates could drop over a period of time.
After the RBI policy announcement in which cash reserve ratio was cut by 0.25 per cent, leading bankers said this measure will not have any significant impact on their cost of funds.
"Lending rates are not going to come down immediately, though the rates may fall over a period of time," ICICI Bank Chief Chanda Kochhar told reporters during the customary post-policy media briefing.
State Bank of India was a bit accommodative, saying its asset liability committee (Alco) will meet in a day or two.
"I prefer a secular reduction in lending rates with a cut in the base rate. We have already passed on the previous CRR cuts to the borrowers. However, our Alco will be meeting in a day or two take a call on lending rate cuts," SBI Chairman Pratip Chaudhuri said.
On impact of the 13 successive rate hike by the central bank through March 2010 to October 2011, Chaudhuri said: "I do not think the 13 rate increases that happened helped in slowing inflation because today's inflation is largely due to cost push, and not so much demand-pull. Trying to address that with rate of interest as an instrument may not be very good."
On impact of the 0.25 per cent CRR cut on SBI's cost of funds, he said, it will release Rs 225 crore (Rs 2.25 billion) and the outgo will increase by up to Rs 300 crore (Rs 3 billion) because of the additional provisioning.
He was quick to add "that should not be a problem as the bank has already budgeted a provisioning of Rs 10,000 crore (Rs 100 billion) for this fiscal. Asset quality is improving, it will be better in Q2 than in Q1".
HDFC Bank Managing Director Aditya Puri said interests are not going to come down anytime soon. "We will examine the pros and cons of the move and there is a likelihood that the rates will go down over time, probably in the current quarter alone." 


Stating that a CRR reduction does not greatly help banks to bring down their lending rates or cost of funds, Puri said the entire 175 bps cuts in the CRR since March this year, effected through three installments, translate into just about 30-35 bps cost saving for the banks.
K R Kamath, Chairman and Managing Director of Punjab National Bank (PNB), said the additional provisioning for CDR book has come as an "unpleasant surprise" for him.
"The additional provision of 0.75 per cent has taken away the space for an immediate reduction in rates. On an average, there will be an impact of around 3 per cent on the profitability of PNB due to the additional provisioning. The benefit from CRR cut cannot make up for it," Kamath said.
On the impact of higher provisioning for CDR loans, Kochhar said the impact will be less than Rs 50 crore. Lakshmi Vilas Bank head P R Somasundaram said "as concerns over inflation resurfaced, the policy is on expected lines. Clearly, in the approach towards balancing growth and inflation, there is consistency in the policy over last several quarters".
However, Oriental Bank of Commerce Executive Director Bhupinder Nayyar said some lenders may reduce interest rates depending on their asset liability position as RBI has injected additional liquidity. "Our bank will take a call on interest rates at the Alco meeting to be held shortly."
Union Bank of India Executive Director S S Mundra described the policy move on expected lines and said 25 bps cut in CRR could give more room for passing on the rate benefit to borrowers, particularly on retail and SME side.
"RBI has done a balancing act by creating further opportunities for lending to productive sectors without diluting its stance on inflation expectations," he said.