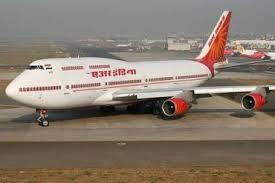 There will be no hasty decision on privatisation of Air India, Civil Aviation Minister Ashok Gajapathi Raju Pusapati on Thursday indicated, saying all issues will be examined and the new government is 'not close to any idea'.

"There are private airlines and there is a public sector company.

"Public sector does have a place and a lot of countries have public sector companies. "As of now, we are trying to formulate our views," Pusapati told his maiden press conference, hours after taking charge of office.

"I am not close to any idea," he said when repeatedly asked whether he would favour privatisation of the state-run airline.

Later, he also said the state-run companies 'in several countries do function rather well. Somehow for us, it has not happened that way . . . but we have to examine all aspects... Air India is a public sector undertaking.

"It has its pluses and minuses.

"How to develop it, we have to look into."

Asked whether the new dispensation would probe all decisions taken by the previous UPA-II government, Pusapati said, "There is no point in dissecting or doing a post-mortem.

"We have to first formulate our own thinking about the issues."

However, the minister also pointed out that the previous government had 'made a lot of commitments' in a variety of areas.

"If anyone has to honour all those commitments, then there should have been no change in the government.

He said several airlines were under financial stress, but the country needs more airlines.

"Let us see if anything the government can do to correct this situation. "We have to be of use to them. We are open to suggestions from all quarters."

Soon after taking over, he said, "We will strive to create a level-playing field for all the players and make the aviation sector more people-oriented."

Asked about loss-making airports run by Airports Authority of India, 63-year-old Pusapati said, "Profitability is one angle, connectivity is another. We will take a balanced view."

Terming the civil aviation sector as major infrastructure, he said though there were several important issues concerning the sector, safety and improving connectivity were among the top-most priorities.

After he stressed that he would bring about transparency in the functioning of the ministry and the decision-making processes, he was asked whether he would look into charges of corruption in various departments during the previous government's tenure.

"At the general level, we can say . . . we won't protect anyone, neither will we persecute anyone. . . Our direction will be to encourage efficiency and honesty.

"As they say, everyone is honest till there is an opportunity to be dishonest," he replied.

On privatisation of airports, including those at Kolkata and Chennai, Pusapati, a senior Telugu Desam Party leader, said he would take a call only after examining all related issues.

Regarding high taxation on jet fuel, he said, "We will consult the Finance Ministry if necessary."

When pointed out that US Federal Aviation Administration has downgraded India's safety ranking, the Minister said, "We are trying to correct those things (the issues raised by FAA) and restore the status (Category-I or the topmost ranking)."

On whether Robert Vadra would continue to be in the VIP list and not be checked at airports, he said, "Security should be meaningful and not ornamental. It will depend on if the Home Ministry feels there is a threat perception, and I am not talking about Vadra, we'll have to see."

He parried questions on issues like the rule to allow Indian carriers to fly abroad and foreign direct investment cap of 49 per cent in the aviation sector, saying the new ministry would examine them before taking any call.

To questions on bilateral air services agreements, especially with Gulf nations, and the role of foreign players in the aviation sector, he said, "We have to be of use to them without being detrimental to our interests."

Pusapati was given detailed presentations on various aspects of the sector by senior officials of the Ministry.

He also held preliminary discussions with Civil Aviation Secretary Ashok Lavasa, Air India CMD Rohit Nandan, Director General Civil Aviation Prabhat Kumar and Airports Economic Regulatory Authority chairman Yashwant Bhave.
Image: An Air India aircraft; Photograph: Reuters