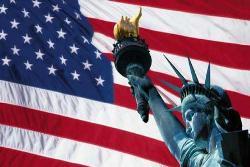 The United States moved quickly on Wednesday to deny that it attempted to influence any action the Indian government might seek to take against The Dow Chemical Company over the Bhopal gas disaster in return for US support on a World Bank loan sought by India.
Speaking from Washington, Benjamin Chang, a spokesman for the National Security Council in the White House, said any assertion of linkage between the two issues was wrong.
The apparent linkage had been implied by a report on the Times Now news channel that disclosed an email exchange between US Deputy National Security Advisor for International Economic Affairs Michael Froman and Deputy Chairman of the Planning Commission Montek Singh Ahluwalia.
According to the reported email, Froman replied to a request from Ahluwalia seeking US support to increase borrowing from the World Bank, saying the US would consider the request.
But he also added in the message that the US was 'hearing a lot of noise about the Dow Chemical issue' and that 'we want to avoid developments, which put a chilling effect on our investment relationship'.
The NSC spokesman declined to comment on the contents of any specific email, calling it confidential correspondence.
Chang also declined to respond to a query on whether the US administration was advocating on behalf of Dow Chemical, and refused to comment on what developments the US would consider as having a 'chilling effect'.
He said the US recognised the importance and sensitivity of the Bhopal issue in India.
BS Reporter in New Delhi adds: On Thursday, Congress President Sonia Gandhi circumvented the entire controversy, instead supporting the government's initiatives to get more compensation from Dow Chemical.
"The GoM has prepared a detailed agenda for action... judicial decisions have been reopened. Waste disposal, decontamination and remediation activities are being finalised. Not a single victim should be denied justice," she said in an address to the Congress Parliamentary Party.
Conceding 'inadequacies' in successive governments' handling of the issue, she asked her party not to remain prisoners of the past, but to 'look ahead and answer the question: What can we do now?'
She also asked her government to put systems in place to ensure no Bhopal-type man-made catastrophe was repeated ever again.
Predictably, the Communist Party of India-Marxist gave vent to its outrage in the Rajya Sabha. Sitaram Yechury said: "This is yet another example of how the US lobby tries to arm-twist others. The government should try to get more compensation from Dow Chemical."
Yechury also said that the government should learn from US President Obama, who forced BP to give $200 billion in compensation after the Gulf of Mexico oil spill.