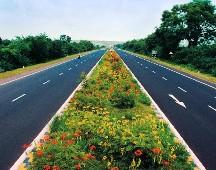 A committee headed by Planning Commission member B K Chaturvedi has recommended a one-time settlement of pending cases in which contractors have claimed less than Rs 10 crore (Rs 100 million) from the National Highways Authority of India.
The move, if accepted, will help resolve nearly one-third of the 1,200 cases on payments pending in various courts in the country.
Dues of about Rs 10,000 crore (Rs 100 billion) of contractors for over 300 projects across the country are stuck in disputes.
The committee, which was set up by the Centre to recommend ways to speed up construction of highways, has also advised withdrawal of pending cases where the verdict of the arbitral tribunal and disputes resolution board are similar. Eighty-six cases will be resolved immediately.
To avoid disputes in the future, the committee has suggested that DRB recommendations be invariably accepted in disputes of less than Rs 5 crore (Rs 50 million), except where the reviewing authority has strong justification to appeal against such recommendations. 
Contractors have been in loggerheads with NHAI over additional payments which they have demanded but the authority has refused to pay due to escalation of project costs because of change in road designs, routes, alignment among others.  
Industry sources say if this recommendation is implemented, it will resolve only 20 per cent of the 1,200 disputes.
They prefer one-time settlement based on the duration of the dispute, with the oldest dispute being cleared first, over clearing of cases on the basis of value as recommended by Chaturvedi.
"The settlement should be carried out by an independent expert group comprising retired deputy comptroller and auditor general and a senior officer from the law ministry," the sources say.
NHAI has a lengthy way of dealing with disputes. It first goes to the arbitration board, which constitutes members from the authority and roads ministry.
It can further be taken to DRB, which also has members from NHAI and the roads ministry. Any unsatisfied party can further take the case to civil courts, which take a lot of time.