Net direct tax collection grew by 12.49 per cent to over Rs 3.90 lakh crore (Rs 3.9 trillion) in the April-January period, less than the budgeted annual target of 15 per cent, reflecting the impact of slowdown.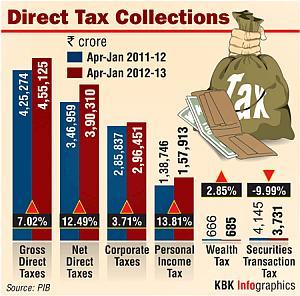 The net direct tax collection was Rs 3.46 lakh crore (Rs 3.46 trillion) in the same period of 2011-12 fiscal.

The gross collection of direct taxes stood at over Rs 4.55 lakh crore (Rs 4.55 trillion) during the April-January period of current fiscal, as against Rs 4.25 lakh crore(Rs 4.25 trillion) in the same period in 2011-12, the Finance Ministry said in a statement.

While collection from personal income tax was up 13.81 per cent at about Rs 1.58 lakh crore (Rs 1.58 trillion), that from corporate tax was up 3.71 per cent at Rs 2.96 lakh crore (Rs 2.96 trillion).

The growth in wealth tax mop up was 2.85 per cent at Rs 685 crore (Rs 6.85 billion), while collection from Securities Transaction Tax (STT) dropped 9.99 per cent to Rs 3,731 crore (Rs 37.31 billion) during the April-January
period.
Despite slowdown in economic activities, the government had said it is confident of meeting the Rs 5.70 lakh crore (Rs 5.7 trillion) direct tax target for the fiscal. Direct taxes include income tax, corporate tax and wealth tax.
Lower than expected growth in corporate tax collection in April-January is evident from muted corporate activity. Also industrial output growth shrank 0.1 per cent in November.
The economy grew by 5.4 per cent in the first half of the current fiscal, lower than 7.3 per cent growth clocked in the year-ago period.
It is likely to grow by 5.7 per cent in the current fiscal, which would be a decade's low. It will be lower than 6.2 per cent recorded in the previous year.
Faced with widening fiscal deficit, the government had earlier issued stern warning to tax evaders and has asked them to disclose their correct income and pay advance tax by due date or be prepared to face action.
The government has also warned evaders of excise, customs and service taxes to pay their dues or face penal action which could include arrest, prosecution and property attachment.