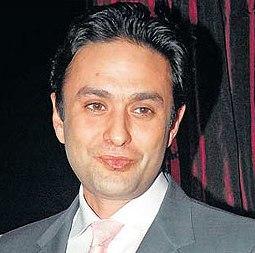 Ness Wadia, elder son of Britannia Industries Chairman Nusli N Wadia, has been nominated to three key positions on the company's board of.

Ness Wadia, 41, inducted into the board of Britannia Industries in April 2010, has now been nominated to the company's investment, innovation and audit committees.

The Wadia family holds about 51 per cent stake in Britannia Industries.

Ness Wadia has been on the board's executive committee since November 2010, along with his father Nusli Wadia.

Jeh Wadia, Nusli Wadia's younger son, also on the company's board, is part of the ethics & compliance committee.

Henceforth, the Rs 5,500-crore (Rs 55-billion) Britannia Industries would have the tagline 'A Wadia Enterprise'.

In the recent past, the company has seen an overhaul of its management team.

In May, it was announced Vinita Bali, managing director of the company since the past eight years, would take on the responsibility of heading Britannia's global operations, while Varun Berry, who joined as chief operating officer, would lead the company's India operations, which account for about 95 per cent of Britannia's revenues.

Britannia Industries, in its 'purpose' statement, said it aimed to facilitate every Indian to experience Britannia products four times a day.

This follows weak volume growth in the last quarter of FY13 (3.5 per cent).

With increased competition from ITC Foods and Parle, as well as the strengthening of global majors in India, Britannia has said innovation is required to create new sources of value.

The company, which has been betting big on nutrition, has said the new sources of value would include new or renovated products and packs.

"This comprehensive view of innovation enables us to experiment and pilot new initiatives and scales those that are successful.

"An in-depth understanding of consumers and what excites and motivates them forms the backbone of all our actions -- from product design and benefit propositions, to their delivery," the company said in a note to shareholders.
Image: Ness Wadia