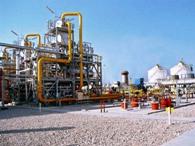 The government has raised the prices of natural gas by more than double to $4.20 per mmBtu, leading to a hike in power and fertiliser production costs. However, a hike in CNG rates will come into effect only from next week.
The cabinet had - last month - approved the raising of gas price from Rs 3,200 per thousand cubic metres ($1.79 per million British thermal units) to Rs 6,818 per thousand cubic metres ($ 3.818 per mmBtu).
After adding royalty, the price for user industries would be Rs 7,500 per thousand cubic metres (Rs 7.5 per cubic metre) or $4.2 per mmBtu. "The decision has been notified with effect from June 1," an official said, adding, "Natural gas to power and fertiliser units is being sold at revised rates from Tuesday, but the same for city gas projects will come into effect from June 8."
The increase in input cost would result in the price of Compressed Natural Gas (CNG) going up by Rs 5.60 to Rs 27.50 per kg in the national capital. But this would come into effect only from June 8.
The price of piped natural gas would be raised from Rs 15.92 per cubic metre to Rs 16.85 per cubic metre. "Gas producers Oil and Natural Gas Corp (ONGC), Oil India (OIL) and gas marketer GAIL India have been informed of the decision. They have started billing customers according to the new rates," he said.
The hike in gas price would also lead to a rise in the cost of fertiliser production and power generation. However, fertiliser prices will not increase as the government subsidises the sector.
The increase in power tariff would be marginal as only 11 per cent of the total electricity generated in the country comes from gas-based power projects. And, of these, only one-third use the gas with the increased price tag.
ONGC and OIL would gain about Rs 5,000 crore (Rs 50 billion) and Rs 700 crore (Rs 7 billion) in revenue respectively due to the gas price increase.
GAIL India, which has been allowed to charge Rs 200 per thousand cubic metres or 11.2 cents per mmBtu as marketing margin, would gain Rs 150-200 crore (Rs 1.5-2 billion) in revenue annually.
State-run ONGC and OIL produce 54.32 million cubic metres of gas per day - about 40 per cent of the total amount originating from the country - through fields given to them on a nomination basis.
The gas, APM, is sold at government-controlled rates of $1.79 per mmBtu. "ONGC and OIL have been making substantial losses in their gas business.
The (current) low prices of gas have discouraged national oil companies from making investments (in raising dwindling output). Therefore, it became essential to increase the price of gas," the official said.