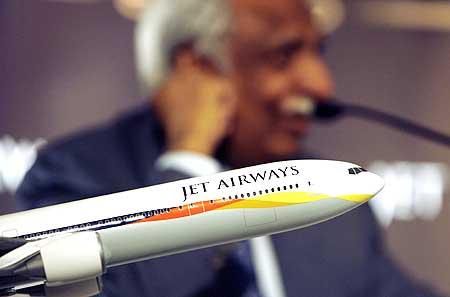 Jet Airways Chairman Naresh Goyal will purchase over one per cent stake in the airline from another promoter entity, Tail Winds, for up to Rs 45 crore (Rs 450 million).
In a regulatory filing, Goyal said that he would acquire 9,60,369 equity shares, accounting for a 1.11 per cent stake, in Jet Airways from Tail Winds on September 30.
Goyal currently holds 5,69,73,296 shares or 65.99 per cent stake in Jet, which would rise to 67.1 per cent after the proposed share purchase.

On the other hand, Tail Winds holds 77,76,212 equity shares or 9.01 per cent stake in Jet, which would decline to 7.89 per cent stake or 6,815,843 shares after the proposed transactions.
Jet Airways has proposed to sell 24 per cent stake in the company to Abu Dhabi-based Etihad Airways for Rs 2,058 crore.
Under the proposed deal, Goyal would eventually have a 51 per cent stake in the company, while 24 per cent stake would be held by Etihad and the remaining 25 per cent will be with public shareholders.
The proposed share transfer from Tail Winds, which used to hold majority of promoter shares till some months ago, to Goyal is believed to be part of an exercise related to the Etihad deal.
Regarding his proposed share purchase next week, Goyal said that the acquisition price "will not be higher by more than 25 per cent of the volume weighted average price for a period of 60 trading days preceding the date of issuance of this notice as traded on the stock exchange where the maximum volume of trading in the shares of the Target Company (Jet Airways) are recorded during such period."
As per the regulatory filing, this average price works out to be Rs 368.06 per share, based on which the maximum acquisition price would be about Rs 460 per share. At this price, the proposed acquisition of about 9.6 lakh shares would be worth about Rs 45 crore.
Jet shares today closed at Rs 348, down 1.39 per cent from the previous close at the NSE. "The rationale, if any, for the proposed transfer is inter-se transfer among the promoter group of the company," the company said.
Jet Airways had on April 24 announced plans to sell 24 per cent equity to Etihad Airways for about Rs 2,058 crore (Rs 20.58 billion), the first ever investment by a foreign airline in an Indian carrier.