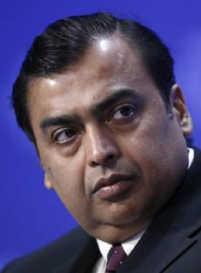 The Mukesh Ambani-promoted Navi Mumbai Special Economic Zone, which had big plans for industrial units, is yet to take off, thanks to the Maharashtra SEZ Act not having been notified.
Reliance Industries Ltd had begun offering plots on lease at the Dronagiri node, one of the four in the NMSEZ, in December 2010, after the environment ministry approved setting up an international airport in Navi Mumbai.
"There is a general slowdown in the economy across the world and it is hitting demand. Initially, we had enquiries from a variety of players, including retailers and hoteliers. But thanks to the act stuck in political circles, the plans are suffering," said a senior RIL official.
Of the four nodes, Dronagiri is to spread over 1,250 hectares, the Kalamboli node over 310 ha and the Ulwe (waterfront) and Airport nodes over 80 and 500 hectares, respectively.
The state government's City and Industrial Development Corporation holds 26
per cent equity in the SEZ, with RIL holding the rest. The company had aggressive plans to begin marketing the SEZ but has put these on hold.
The official said the government had put the SEZ Act in the freezer, "SEZ units will be practically boycotting Maharashtra and Maharashtra will become a bad word for setting up units in an SEZ," he said.
Though retailers such as D Mart and the Future Group's Big Bazaar were in talks with Navi Mumbai SEZ executives to lease the space, they did not sign any deal with the latter.
Executives of both who spoke to
Business Standard
said the companies were in talks with NMSEZ to book space but no deal materialised.
According to Joy Sanyal, head of development initiatives at property consultancy Jones Lang LaSalle: "Not only NMSEZ, many other SEZs are also suffering because the government has not given approvals. They need government patronage to grow."